Minister of Health Kim Wilson proclaimed October as Breast Cancer Awareness Month at the Bermuda Cancer and Health Centre, with the Minister urging everyone to protect their health by having a mammogram as recommended by their physician.
Joined by Kristin Burt, this year's Breast Cancer Awareness Month patron, Tara Curtis of BCHC, and John Wight of BF&M, Minister Wilson said, "Looking around the room today, I see many pink ribbons. They have become a visual reminder of both loss and hope, not just during Breast Cancer Awareness Month but throughout the year.
"Whether you wear the ribbon in memory of a loved one, as an advocate or as a survivor, these ribbons are a symbol of a level of awareness that would have been unimaginable a generation ago."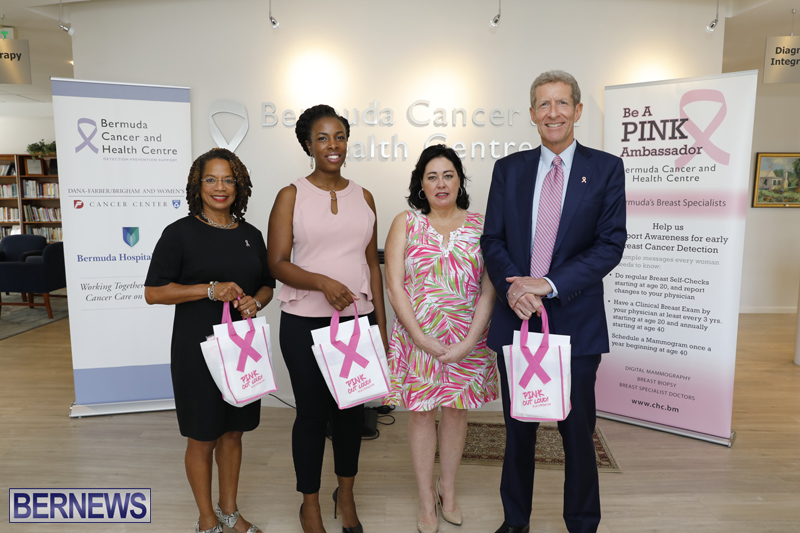 "Breast cancer is the second most common cause of death from cancer in women worldwide, after lung cancer. In Bermuda, it is women's leading cause of death by cancer. I am acutely aware of the toll this takes on our society.
"With 1 in 8 women being told in their lifetime that they have breast cancer, regular screenings and quality care are vital to improving outcomes, and we are making strides in improving treatment options with the addition of Bermuda Cancer and Health Centre's Radiation Therapy Unit.
"Bermuda is proud that radiation therapy is now available to patients locally, and Bermuda Cancer and Health is commended for making this happen for our island, in collaboration with many stakeholders, including the Bermuda Hospitals Board.
"Naturally, we want HIP and FutureCare patients to have access to this care also, therefore we have updated the legislation to ensure HIP and FutureCare can have this coverage, and I'm pleased to announce today that this is now in effect.
"This will be cost-neutral for the plans and the Government, thanks to the partnership with Bermuda Cancer and Health, and it will be much more affordable for patients.
"More importantly, those requiring radiation can recover at home with the support of family and friends… without the extra cost of overseas trips.
"This new Radiation Therapy Unit's machinery is just one of the continuing technological advances related to breast health… all of which prove that the future is hopeful. Not only have there been improvements that contribute to more accurate, earlier diagnosis and better treatment, but we have also seen efforts to make the process of having a mammogram, biopsy or radiation therapy more accessible to all.
"In the equipment being used and in the caring attitude exhibited by healthcare providers, the focus is on making the patient experience as easy as possible.
"Bermuda Cancer and Health Centre is committed to equal opportunity and access, and therefore provides free mammograms for women who do not have health insurance. This is not just during the month of October but throughout the year, as part of their Equal Access Fund.
"While the cause of breast cancer is still unknown, we do know that some women are more at risk than others. Understanding these risks, such as family history, is important. Early detection can save lives.
"As we observe Breast Cancer Awareness Month, I urge everyone to protect their health by having a mammogram as recommended by your physician. Digital Mammography is the best available method of detecting most breast cancers long before physical symptoms can be seen or felt.
"Women and men can take precautionary action by talking with their physicians about what they can do to lower their risk factors and learning about what tests are right for them.
"This October, on behalf of the Ministry of Health, I ask all of Bermuda to take action. Get your mammogram, and promote breast health for you and those you love.
"In my role as Minister of Health, I hereby proclaim the month of October 2017 as Breast Cancer Awareness Month in Bermuda."

Read More About