The Bermuda National Gallery [BNG] will be hosting a free community presentation titled "Why is Art Important to Early Development?" on Wednesday, October 25 from 12.30pm to 1.30pm at BNG on the second floor of City Hal.
The event poster says, "This panel presentation will explore the results from the BNG's assessment of the Early Years programme in the context of building families and strengthening community. Under the distinguished patronage of Mrs. Kristin Burt."
The event poster outlines the event's speakers by saying, "Minister Kim Wilson has a long-standing interest in the Health portfolio. Immediately previous to her appointment as Minister of Health, she served the people of Bermuda as Shadow Minister of Health and Seniors.
"Minister Wilson has served on a number of boards and committees which include, among others, the Human Rights Commission, E-commerce Advisory Board, Criminal Injuries Compensation Board and the Board of Governors for CedarBridge Academy.
"Dr. Sylvanus Nawab is a graduate of the University of Havana Institute of Medical Sciences. He is experienced in the care of high risk neonates and general pediatrics. He is a Diplomat and Fellow of the American Academy of Pediatrics and has also worked as a House Officer in The Commonwealth of Dominica, then as an Emergency Room and Pediatric House Officer in St. Lucia.
"Prior to joining Edgewood Pediatrics, he was the Senior Pediatric House Officer at the King Edward VII Memorial Hospital, Bermuda. Dr. Nawab is highly experienced in the care of premature and sick newborns. He is passionate about the health of young people and developing community awareness of healthy living.
"Dany Pen oversees all the education programmes at the museum, such as the Early Years Programme, Youth Camera Action and Youth Arts Council. In 2011, she piloted the Early Years Programme and, to date, the programme has successfully reached over 1800 students ages 2 – 4 years old.
"Previously, she worked as an art educator working with children who were diagnosed with language delays, behavioural challenges, autism, asperger syndrome and ADHD. In 2016, Pen received the "World Builder" award from OCAD University, Canada, which is the university's highest honours for alumni achievement. Currently, Dany Pen also serves on the Human Rights Commission.
"Alisha Mecene has been practicing at the Family Centre for 7 years. She provides counseling, psychological assessments and clinical advocacy for young people ages 4-18. She plays a key role in the operations of Social Skills Groups and helped to develop the Lego and Creativity Group, centered on self-expression and originality.
"Mrs. Mecene has 3 years of overseas clinical experiences, in a diversity of settings, such as schools, drug treatment facilities, clinics and clinical research. In 2008 she was a Graduate Fellow at Assumption College and a Research Assistant at University of Massachusetts's Center for Psychopharmacological Research.
"Key interests include trauma, education and expressive therapies, which include the use of art, music, movement, yoga and sandtray during therapeutic treatment.
"Moderator Lisa Howie has led the BNG since 2009, having been previously employed as its Education Director. Lisa's background is in the field of education, specifically teaching English literature to senior school students by using the visual arts as a gateway to the text.
"Her passion for education and community building led to her serving as chair of the Bermuda Cultural Heritage Alliance and a committee leader with the Inter Agency Committee for Children & Families. Her belief in the value of art-based learning experiences has shaped the direction of BNG's education programmes."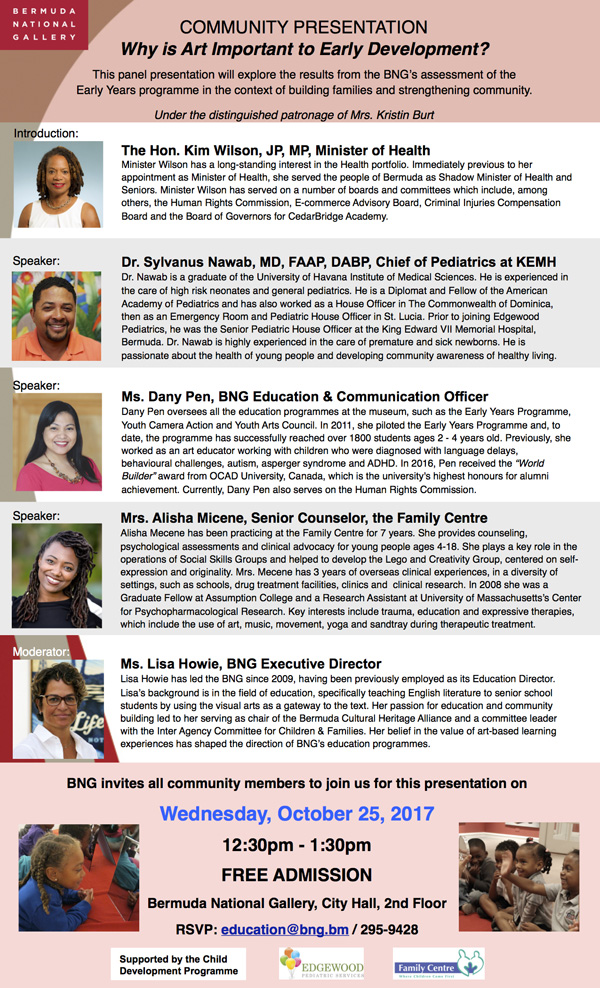 Read More About
Category: All, Entertainment