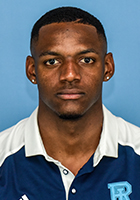 Bermuda's Chae Brangman scored for Rhode Island in the 51st minute as they recorded a 2-1 victory against Duquesne, marking his team-leading eighth goal of the season.
Brangman plays for the University of Rhode Island, and the school's match report said, "Rhode Island [9-5-3, 4-3-1 A-10] scored a pair of second-half goals to come from behind and beat Duquesne 2-1 Wednesday night at the URI Soccer Complex. The victory clinched the Rams' spot in this weekend's Atlantic 10 Championship.
"Trailing 1-0 after a first-half goal by Duquesne's George Poppas, Chae Brangman equalized in the 51st minute to give Rhode Island the boost it needed early in the second half. Brangman fired a high hard shot just under the crossbar off a service from Dominik Richter.
"Senior Ryan Bailey later netted the game-winner, beating Duquesne's keeper inside the right post from a tight angle in the 76th minute. Emil Jesman Sunde picked up an assist on the play.
"Duquesne [3-13-1, 1-7 A-10] managed just one shot on goal the rest of the way, though Rhody had to defend a corner kick in the final minute to secure the victory.
"Sophomore Chae Brangman's goal was his team-leading eighth of the season."

Read More About