The Department of Health is reminding you that you can get your flu shot at a Government clinic or through some private physicians.
"There are currently flu cases on the island, so protect yourself and your family now. Minister of Health Kim Wilson and Chief Medical Officer Dr. Cheryl Peek-Ball are leading by example and have already been vaccinated," the Department said.
"The seasonal influenza [flu] vaccine costs of $10.00 per shot [for both adults and children aged 3 and up]. Those over the age of 65 years will receive the seasonal flu vaccine free of charge.
Chief Medical Officer Dr. Cheryl Peek-Ball undergoing vaccination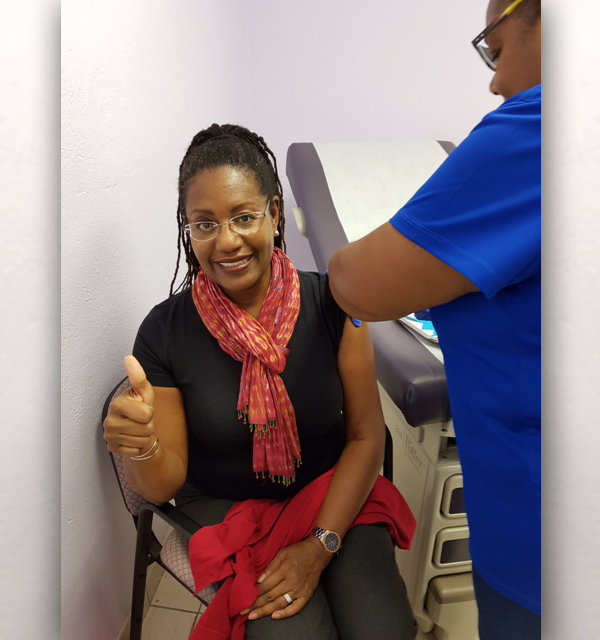 "The manufacturer has provided Trivalent influenza vaccine for infants 6 months – 35 months to cover the gap not met by the current stock of Quadrivalent Influenza vaccine approved for persons 3 years of age and older.
"The supply of Trivalent Influenza vaccine is expected this week and will be available for distribution on Friday 29th December, pending cold chain clearance. The presentation will be a multi-dose vial of 20 doses at the same cost.

"Flu vaccine can keep you from getting flu, make flu less severe if you do get it, and keep you from spreading flu to your family and other people, especially newborns and young infants, children, seniors, and persons at risk of complications from the flu. It can help reduce absenteeism from work or school due to influenza.
Minister of Health Kim Wilson undergoing vaccination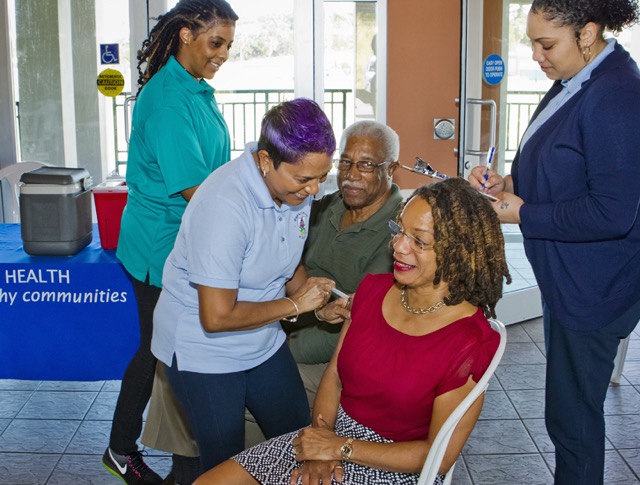 "By protecting yourself against influenza, you are also protecting your family, your household, your workplace and ultimately your community.
"Individuals under a physician's care for chronic medical conditions and children under the age of three years are asked to obtain a prescription for flu immunization from their private physician. For more information on influenza: here. For more information, call 278-6460."

Read More About