Bello Nock will be performing live in Bermuda from February 22 -24th, with the 'Bello Knock Circus' to take place at the Ruth Seaton James Auditorium, featuring a variety of thrill acts.
"You may have seen him – not once, not twice, but three times – on this season of America's Got Talent," the Pristine Group said.
"He climbed a sky-high sway pole, got shot out a cannon over a helicopter with spinning blades and received a standing ovation for his amazing performance on the Wheel of Death! Or maybe you've seen him walking a wire with the 'Impractical Jokers' or in one of his countless exciting live performances.
"His appearance in Ringling's 'Bellobration' set attendance records at Madison Square Garden for family entertainment. And the producer, Kenneth Feld, called Bello 'a once in a lifetime performer."
"Bello's repertoire includes virtually every major thrill act possible and yet he's still able to provide intimate audience experiences and magical memories and surprises. He's an international talent who awards and accolades are too many to mention, but once you see him perform, you'll be a fan for life!
"Bello's shows have something for all ages and is guaranteed to capture the attention of the children and the adults. Bello and his team are excited to be coming to Bermuda to do his famous Off-Broadway show. There will be no live animals involved in any of the shows."
"There will be five opportunities to see Bello and his team starting on Thursday, February 22 at 6:30 pm, Friday, February 23rd at 7:30 pm and Saturday, February 24th at 11:00 am, 3:30 pm and 7:30 pm. For more information and to purchase tickets visit www.ptix.bm.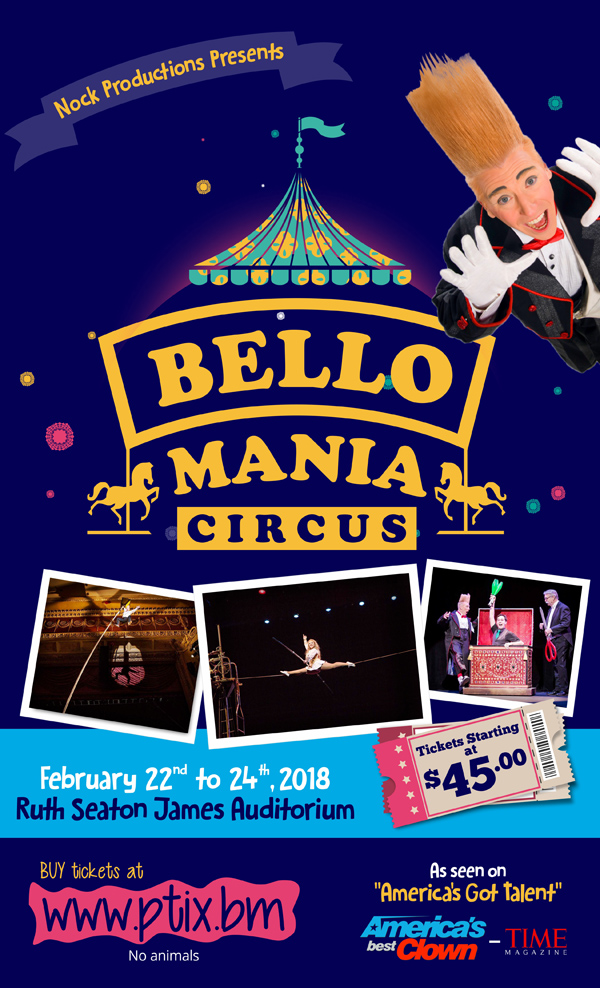 Read More About
Category: All, Entertainment