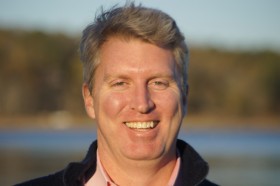 [Opinion column written by Kirkland Hamill]
When Bermuda repealed the Supreme Court's marriage equality decision, I wrote an op-ed in The Advocate about not coming back to the island until it was repealed and marriage reinstated.
Some people thought that was extreme, and counter-productive, and would end up potentially punishing the people I wanted to help. I took that stand because I have learned that systems don't change unless there is enough discomfort to create change, and because injustice and unfairness pisses me off.
I wasn't born an activist; I was created.
The first seeds were planted when I was 4 years old and my mother made me parade in front of a group of adults at our annual Labor Day skit as the "female" half of a gay couple. My older brother was "the man." She dressed me up in a halter-top, skirt and heels, draped me in pearls and hung a "gay liberation" sign around my neck, mocking a movement that had just started to take root.
I told her that I didn't want to go, but she was having too much fun applying my make-up, and seemed annoyed that I was ruining her fun. I can still hear the laughter from the crowd 46 years later as I walked arm and arm with my brother, knowing that in some way I was the butt of a joke that I didn't understand. I felt foolish, and ashamed, and kept running to my mother crying, but she would just peel my hands from her legs and push me back into the middle of the room, refusing to comfort me until I completed the procession. She was laughing the loudest of everyone.
My training as an activist continued throughout my early childhood, as I fielded the subtle looks and outright disgust of disapproving adults, particularly my parents, who wanted me to toughen up, or speak in a less girly tone, skip less enthusiastically and stop asking about how to needlepoint.
We lived on a horse farm when I was 7 years old, and the assistant manager of the barn slapped me across the face one day when I wouldn't stop talking and waving my hands flamboyantly. I knew she wasn't just telling me to stop saying words and to stop moving my hands; she was telling me that I needed to stop being me because who I was made her angry. I can still feel the sting of her hand, and the hatred behind it.
I need to acknowledge the classmate who honed in on me every recess, sniffing out my timidity like a truffle pig, so he could make daily deposits into what would eventually become my drive to ensure that society evolved into a place where kids didn't have to hide who they were for fear of being brutalized.
I also need to thank, and apologize to, the kids who were more vulnerable than I was, who I treated badly, as the memories of my unkindness keep me up at night, and remind me to practice forgiveness with my resolve, understanding that we can all be victims and we all have the capacity to be perpetrators.
I finally had the strength to come out as gay when I was 30. My mother refused to acknowledge that I had said anything, ending our phone conversations quickly whenever I brought up something about my life that might pierce her denial.
My father, upon hearing the news, said "I won't believe you're gay until you bring somebody home, then I can begin having trouble accepting it" – a mind twister I'm still deciphering to this day.
My friends were supportive, but I was often on the receiving end of questions about who the "man" in any relationship was, because being gay to many people still elicits images of what we do in the bedroom, and not about who makes our palms sweat and hearts flutter. We are an oddity to many, an abomination to some, and – gratefully – just friends, neighbors, family members and citizens to an ever-expanding majority.
On February 7th, 2018, the Bermuda Government repealed marriage equality and replaced it with domestic partnerships – the equivalent of an open-handed slap across the face.
Those of us who have spent much of our lives being ridiculed, belittled, subtly dismissed and ignored have found solace in community, and strength through adversity. We will not accept anything short of full equality. We will not be bullied, or intimidated, or quieted. We will persist. We will win.
- Kirkland Hamill is a dual citizen who lived in Bermuda from the ages of 8 to 16. He returned to the island for a year when he took a break from college, and after that returned to the island to visit family, with his last visit in 2005 for his mother's funeral. He currently resides in Washington DC, recently celebrated his 50th birthday, and is working on a memoir — entitled 'Filthy Beasts' — partially set in Bermuda.


20 Most Recent Opinion Columns

Opinion columns reflect the views of the writer, and not those of Bernews Ltd. To submit an Opinion Column/Letter to the Editor, please email info@bernews.com. Bernews welcomes submissions, and while there are no length restrictions, all columns must be signed by the writer's real name.
-

Read More About