[Opinion column written by MP Chris Famous] 
On December 1, 2017, the House of Assembly agreed to establish a Parliamentary Joint Select Committee to carry out an inquiry into the events of, and leading up to, December 2nd, 2016.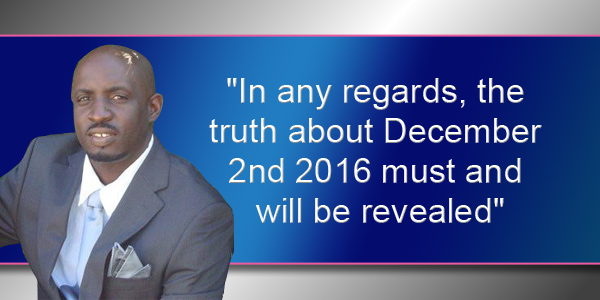 This Committee is tasked to:
1. "to inquire into the events as aforesaid as thoroughly as may be;
2. to bring closure to this event by the making of all proper and necessary findings, recommendations and where required sanctions;
3. and to submit its report to the House of Assembly within three to six months."
The Parliamentary Joint Select Committee shall:
1. identify the key or relevant decision-makers of the precipitating actions which led to the main events of the inquiry;
2. send for all persons, papers and records that are relevant to the Committee's mandate to thoroughly inquire into the events;
3. examine all persons who are or were accountable for decisions, deployments, and acts or omissions on December 2nd, 2016 whether as Premier, Ministers, Public Officers, Civil Servants or Constitutional Office Holders
Allow me a few minutes to remind the public of a few historical facts.
Fact 1:
"What transpired in Bermuda last Friday was disheartening to see and unacceptable. Let me be very clear, I don't condone the violence that occurred against our citizens and was deeply troubled by what occurred." – Premier Michael H. Dunkley [December 4, 2016]
Fact 2:
"As it relates to the operations on Friday, I wish to advise that as Minister I was not consulted, nor informed of the tactical options discussed and decided upon by the Bermuda Police Service or anyone else on Friday." – National Security Minister Jeff Baron [December 5, 2016]
Fast forward to December 1st, 2017 the official Hansard records will show the following:
"The Member, Mr. Speaker, is misleading the House. At no point did I ever say that I did not . . . that I was not aware of the police operation at all. Completely misleading." – MP Jeff Baron
"I can remember. I said, I've had enough. I am not staying in this cooped-up room here like this here. I walked around the block, coming around Marketplace here only to walk into members who had just been pepper-sprayed. I was like, Oh, my goodness! What have we done? What have we done?"
"So I am asking you to press the envelope for answers. You brought it to this Honourable House; I want some answers, Honourable Member from constituency 2. I want some answers. So press the envelope for these answers." – MP Craig Cannonier
Not one OBA MP objected to this JSC being set up. Not one.
The bi-partisan JSC was subsequently set up comprising the following persons; Senate President, Senator Joan Dillas Wright, PLP MPs Kim Swan, Michael Scott, Neville Tyrell, and Tinee Furbert, One Bermuda Alliance [OBA] MP Ben Smith and Senator Andrew Simons
Some salient points for the people to consider:
The former Minister of National Security initially stated he knew nothing about the police operation
One year later he says he knew about it
Yet another former Premier stated emphatically "What have we done, what have we done?" and says he wants answers.
The former Premier stated this was "violence against Bermudians".
One year later he refused to speak on the December 1st motion about that same "violence against Bermudians".
A Joint Select committee of representatives from both parties is picked by the Speaker of the House.
They then begin to press the envelope and suddenly the same former Premier who refused to speak on the motion has a problem with the JSC and decides to run to the media before meeting with the Speaker of the House why he won't testify about his role during that day of "violence against Bermudians".
Chief among his claim is that he is "most concerned that certain members of the PJSC will not be able to conduct themselves in an unbiased way having regard to the comments made by them during this debate"
Three things come to mind to many Bermudians:
1. Who exactly is the former Premier labelling as "unable to conduct themselves in an unbiased way"
2. The former Premier seemingly has little to no respect for the Speakers ability to pick a fair and unbiased JSC.
3. Most worrisome it seems that the former Premier seemingly does not want to answer questions of a duly selected Joint Select Committee.
In any regards, the truth about December 2nd 2016 must and will be revealed.
- Chris Famous can be contacted via email at Carib_pro@yahoo.com or Twitter at @ryderz777

20 Most Recent Opinion Columns

Opinion columns reflect the views of the writer, and not those of Bernews Ltd. To submit an Opinion Column/Letter to the Editor, please email info@bernews.com. Bernews welcomes submissions, and while there are no length restrictions, all columns must be signed by the writer's real name.
-
Read More About