Salvation Army Bermuda Divisional Band will host their annual Spring Festival on June 2, which features four sets of overseas guests in the repertoire.
A spokesperson said, "The Salvation Army Bermuda Divisional Band is celebrating its 22nd annual Spring Festival on Saturday, June 2. This year they will have the privilege of featuring four sets of overseas guests in the repertoire.
American Guest Conductor William Himes
"Bill was the music director of The Salvation Army's Central Territory from 1977 to 2015. In this capacity he is also conductor of the Chicago Staff Band, which he has led on successful tours of New Zealand, Chile, Canada, Jamaica, Mexico, Singapore, the Philippines, Hong Kong, England, South Korea, and Australia. He pioneered crossover arrangements within The Salvation Army establishing the Hallelujah Choruses series, promoting accessibility for all forms of music groups and combinations.
"He is in demand as a guest internationally and even in his retirement has been at the forefront of discussions in both the contemporary-focused North American Songwriters Forums and their traditionally-focused Composers Symposiums Bill earned his Bachelor and Master of Music degrees from the University of Michigan. He taught instrumental music in the public schools of Flint, Michigan, where he was also adjunct lecturer in low brass at the University of Michigan-Flint.
"On July 2, 2000, at the International Millennial Congress in Atlanta, GA, General John Gowans awarded the Order of the Founder to Bandmaster William Himes, who has a given exemplary leadership under the baton of the Chief Musician with an overwhelming desire to win souls. His fun and engaging personality has kept him in demand as conductor, composer, lecturer, clinician, and euphonium soloist, and has appeared throughout the United States, Australia, New Zealand, Sweden, Denmark, Norway, Jamaica, Argentina, Japan, and the United Kingdom.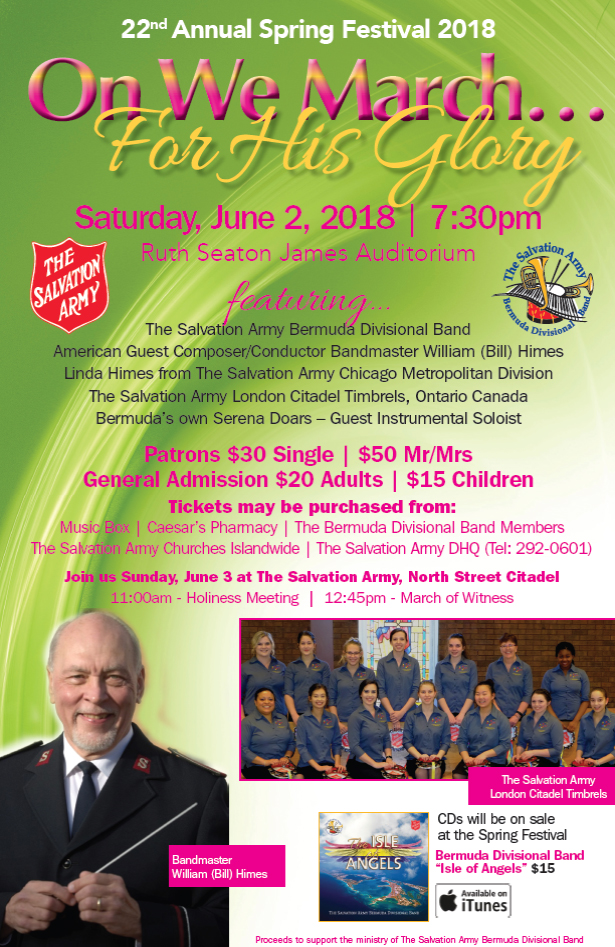 American Guest Linda Himes
"Linda Himes has served in various ministries in the Salvation Army for most of her adult life. She has always had a strong passion for the Word of God and looks for every opportunity to share its truths. For two years Linda worked with Precept Ministries in Chattanooga, TN, which provided the foundation for her skills as a teacher and trainer, using an inductive method for studying the Bible.
"From this experience she realized that although most Christians know they should study the Bible, often they do not know how to effectively study scripture to nourish their spiritual growth. In 1997 her calling was fulfilled when she was appointed the Territorial Bible Ministries Consultant for the USA Central Territory in which she served for 16 years. Although retired since 2013, she continues to be in demand throughout North America and beyond, teaching Bible studies and sharing her love of God and His Word.
"Linda and her husband, Bill, are members of the Oakbrook Terrace Salvation Army Worship and Community Center in metropolitan Chicago. There she serves as Bible study leader, Girl Guard leader, Assistant Corps Sergeant Major, and is a member of the Songsters. Linda and Bill have two married children and three grandchildren.
The London Citadel Timbrel Brigade from Ontario Canada
"The London Citadel Senior Timbrel brigade is made up of young people aged 12 and older who are excited about praising God in a very uniqiue way! Under the leadership of Serena Doars, their mission is to praise the Lord with their tambourines while engaging others in communion and worship through music. Members of the brigade have come together through London Citadel's Thursday evening community music programming or are regular attendees of the London Citadel Corps in London, Ontario, Canada.
"The London Citadel Timbrels have thoroughly enjoyed partnering in ministry with bands such as: Canadian Staff Band, New York Staff Band, International Staff Band, Angola National Band, Impact Brass, OCE Divisional Youth Band, Salvation Brass, Jubilee Brass, North York Temple Band, Oslo Temple Band, Mountain Citadel Band and the London Citadel Band.
"Recently, they have been privileged to participate in a variety of exciting and influential Salvation Army events such as the Canada and Bermuda Territorial Congress in 2014, Boundless – the Salvation Army's Territorial Congress in London, England in 2015, Commissioning for the Canada and Bermuda Territory in 2016, and the Tournament of Roses parade in Pasadena, California in 2017. Locally, with the support of their corps band, they participate in Sunday services, community concerts and corps anniversary celebrations, as well as Rally Day and Christmas parades.
Bermuda's own Serena Doars
"Serena Doars is an elementary school teacher who began learning to play the timbrel as a young person in the London Citadel Corps over 30 years ago. In addition to playing and teaching the timbrel at the corps, she has enjoyed working with young people leading timbrel programs at her Divisional, Provincial and Territorial summer music camp programs over the past 10 years.
"She also plays the cornet and is a member of the London Citadel Band as well as a former member of the Canadian Staff Band. Serena has grassroots family in the Salvation Army and in Bermuda – her dad is Bandmaster Bernard Doars Junior [raised at the Salvation Army Hamilton Citadel] ; Her grandparents are the late Bandmaster Bernard Doars Senior and Sister Otavis Doars [Salvation Army Hamilton Citadel] / the late Jean Simmons and other relatives in the Salvation Army – Cheryl Doars [North Street], Joanne and Jonea Paynter [Cedar Hill], Danielle Doars, Gladwyn Doars and the list goes on."

Read More About
Category: All, Entertainment, Music