AceBoy Sports Group [ABSG] hosted a 1 versus 1 'street ball' basketball tournament dubbed "Battle on the Blacktop" on Saturday at the outdoor court on Parson's Road in Pembroke.
Jason Gonsalves said, "First of all I would like to express my greatest thanks to Chubb Bermuda and the Chubb Foundation who generously sponsored this event and without their support this event would not have been possible.
"In total there were 15 participants, with ages ranging from 14-25.
Bryce Gonsalves, Dion Easton, Jason Gonsalves, Mykal Glasgow, Mikle Dill, and Jorel Smith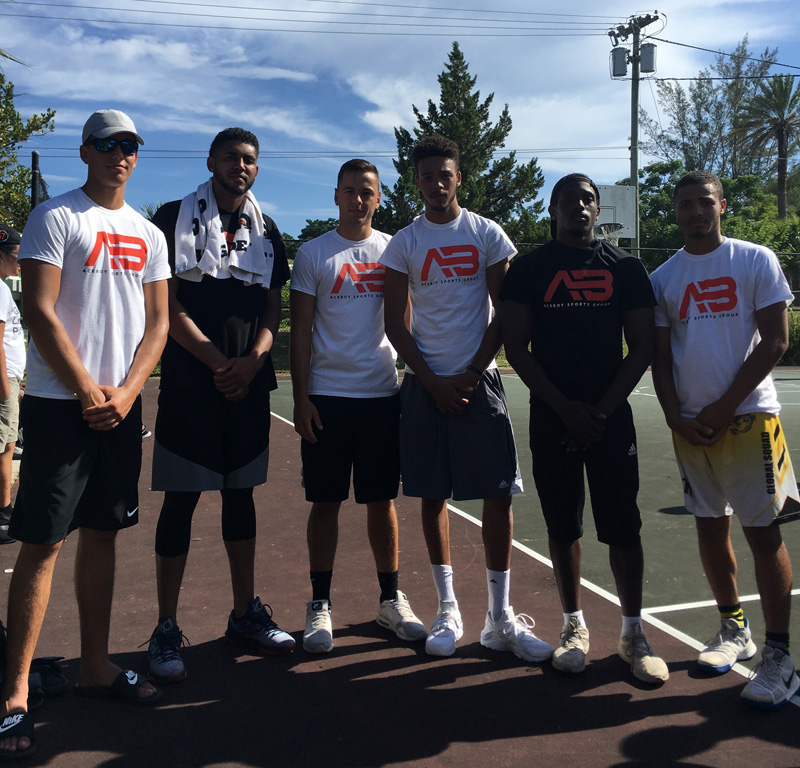 "The tournament was a single elimination style, with the first player to reach seven points winning and advancing to the next round.
"The losers of the first round were able to play in a 'redemption' round for a free AceBoy Sports Group [ABSG] t-shirt.
"The winner of the redemption round was Andy Perez, who previously played for CedarBridge Academy and is also a former teammate of mine on the U16 National Basketball Team.
"AceBoy Athletes Bryce Gonsalves, Jorel Smith, Mykal Glasgow, Dion Easton, and Kobie Reid took part in the Battle on the Blacktop, which brought some friendly rivalries to life in the inaugural event.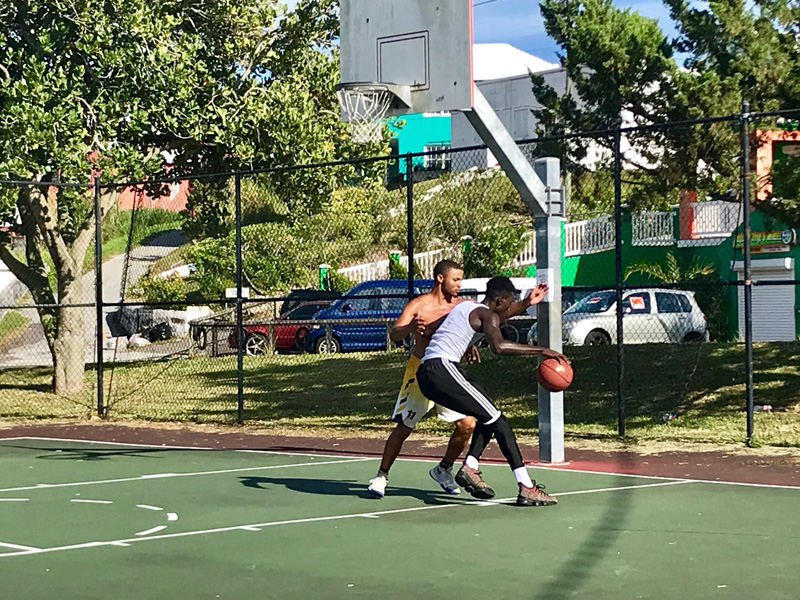 "Being an aspiring sports management and athlete representation firm, the aforementioned players are under no contractual obligations with ABSG, and are simply promoted on social media in the efforts to expand their profiles as local athlete icons, and highlight their successes in their respective sports.
"These players all performed extremely well and showed off the quality and talent that basketball players in Bermuda have. Gonsalves and Smith went head-to-head in the semi-final in a heated and exciting match-up, which saw Smith advance to the final on a score of 7 to 5.
"Jorel Smith was then matched up with Kurt Gershon in the final, who is one of Jorel's teammates at the Team Hurricane Basketball Academy [which I am an alumni of] which is run by head coach Douglas Reed.
"Coach Reed has done a fabulous job with his program, which has helped develop all of the above mentioned AceBoy Athletes.
"The final saw Gershon defeat Smith in a score of 7 to 6, in a thrilling back and forth competition, with both players matching the intent of each other.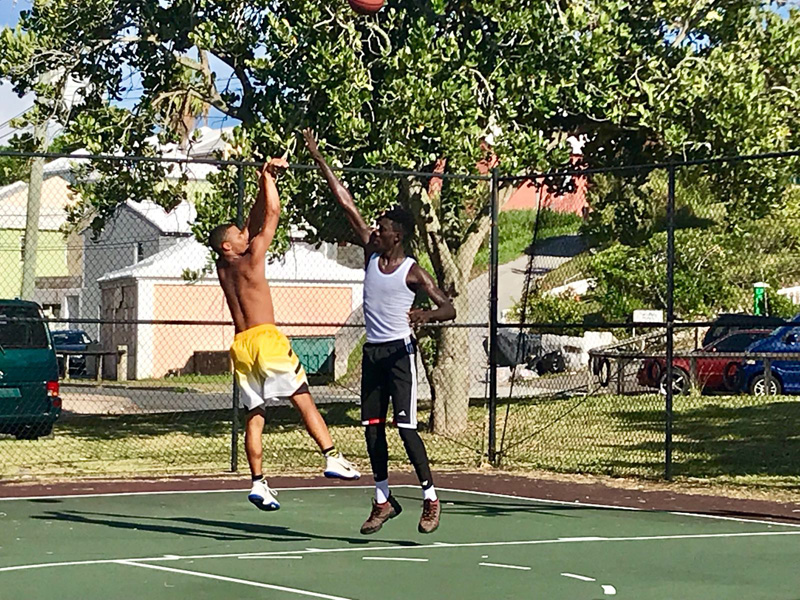 "In addition to these older, more established players, there was a plethora of young talent on display who were just hungry and excited to play in Bermuda's first ever 1 on 1 basketball tournament.
"Samuel Darrell in particular, was matched up with Bryce Gonsalves in the first round, and although he was defeated he performed admirably despite being five years younger. Darrell approached me after the tournament to express his interest in becoming an AceBoy Athlete, and after seeing the influence it has had on the other athletes we have a new basketball player to bolster our AceBoy roster.
"AceBoy Athlete and rugby prodigy Nadre Ahknaton-Tuzo also participated in the tournament, showing his talents on the blacktop. AceBoy Athlete Mikle Dill, a local rugby phenom with aspirations of one day playing professional rugby was also in attendance and showed support for his fellow athletes.
"Sport is very much part of the culture in Bermuda, and when you think of sports in Bermuda you commonly think of football and cricket as the two main sports. However, basketball is on the rise and has been for some time now.
"There are numerous programs on the island that offer great development for young players including Team Hurricane Basketball Academy and Coach Bullet Basketball, which is run by head coach Tim Trott. I hope that this event will become a staple in Bermuda basketball, and the goal for next year will be to increase the attendance of spectators and hopefully eclipse twenty players in participation.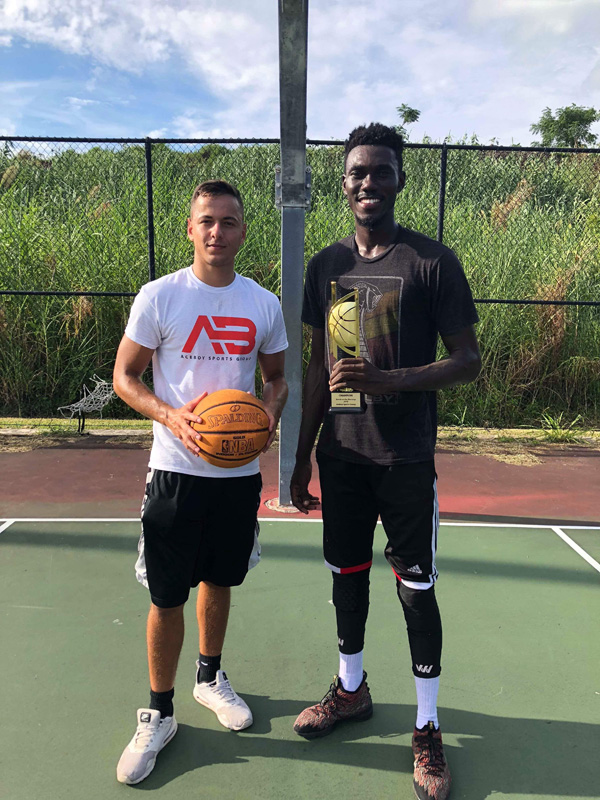 "In addition to putting the basketball talent of Bermuda on display, all the vendors and suppliers of equipment and apparel were solely Bermudian operations. We would like to thank Bermuda Blue Printing, International Sports Shop, Island Advertising Services, and DJ Keem for their support in the event, without all of whom this event would not have been as attractive as it was.
"I would also like to give special thanks and appreciation to Ra'ees Tankard of Road Less Traveled Videos who filmed the entire event and will be producing a highlight recap video of the tournament.
"The outdoor court on Parson's Road is a known location for basketball players in Bermuda, so following the event we took some time before we left just to clean-up the area to keep it attractive for the residents of Parson's Road.
"I would also like to express my thanks to Joshua Liyanage for designing our amazing logo earlier this year in preparation for the launch and event."

Read More About