Businessman Tarik Smith is the new Deputy Co-Chair of the One Bermuda Alliance.
"I wanted to try and make a difference by bringing new, fresh and some unconventional ideas to the table," said Mr Smith, who runs the Bermuda Commercial Laundry and Ord Road Laundry.
"Bringing in new people who have a different perspective of things can help in many ways. I had been to a few Party Caucus meetings and I heard that nominations for the post had been requested.
"At the time I felt I might have been too new to the Party, but after considerable thought, and after some members stressed that maybe it's a good idea to have that different view, I put my name forward."
Tarik Smith [left] with OBA Chair Justin Mathias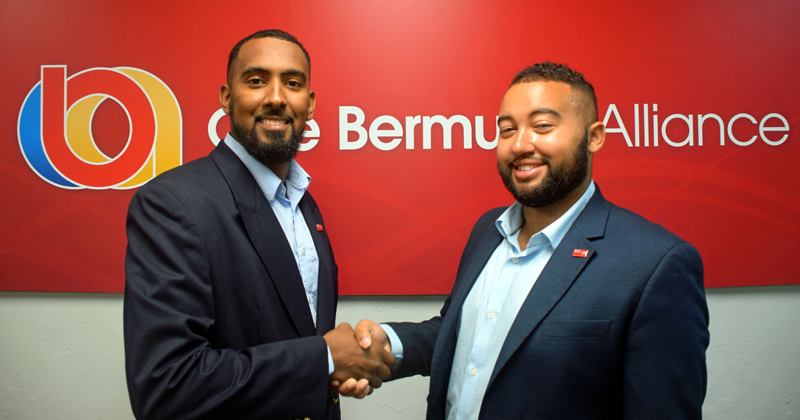 The 38-year-old from Warwick became a member of the OBA this year but has supported the Party since its inception, helping Jeff Sousa canvass during the 2012 General Election.
Last month, Mr. Smith was confirmed by the OBA Candidate Selection Committee to be the adopted candidate for Constituency 24, a seat which is currently held by the PLP's Lawrence Scott.
"My decision to join came after a conversation with a Party member who felt my ideas could help. At first I did not think I would be listened to, but I've found that to be untrue as people within the Party are very willing to listen."
Mr. Smith said the OBA is going through some changes and will be even better equipped to be the Government Bermuda needs in the future.
"I believe the OBA has governed Bermuda better than other administration given the circumstances, and we just have to get our finger back on the pulse of the people of Bermuda.
"I feel that they were working so hard to turn the economy around that party lost sight of the People during the latter years as government. We must remember we are in this to serve Bermuda and her people and not ourselves. We must not forget that."
He said he wanted to concentrate on reinvigorating the Party's membership, adding: "I want to introduce new people to the Party with fresh creative ideas on how to move forward, I also want to hear from our members past and present in the hope that all of us can work together to rebuild our standing with the people of Bermuda, who I believe, will be better lead by an OBA government."
OBA Leader Jeanne Atherden said she was delighted at Mr. Smith's election to Deputy Chair, saying: "Tarik brings youth, enthusiasm, vitality and new ideas. I think he has a long future within the OBA and is someone who everyone can identify with."
Mr. Smith was elected by acclamation and he serves as Co-Deputy Chair along with Nandi Outerbridge.
Read More About