Another 'Break the Silence' Candlelight Vigil will be held at 7.30pm this evening [Aug 30] at the park across from Southampton Rangers, and organiser Antonio Belvedere is urging everyone to come out and "bring peace."
This evening's event follows after the fatal stabbing of 25-year-old Danshun Swann in Southampton on August 27th, and Mr Belvedere said this event is "all about unity and coming together."
Live video replay of Antonio Belvedere's comments this morning:
Speaking this morning, organiser Antonio Belvedere told Bernews, "I'm just trying to encourage people to bring their families, bring their loved ones, especially those that have been affected by the 51 men that have been murdered in our streets since 2003 to date.
"Bring a candle, and it's just all about unity and coming together and comforting these families who have lost a loved one," he added.
"Last Thursday was a message, and I feel the message is getting across. It's a hard message, to just see all those crosses, all those names, and it's a sad reality that that's where we are today in Bermuda."
The last Vigil: Crosses representing the men that have died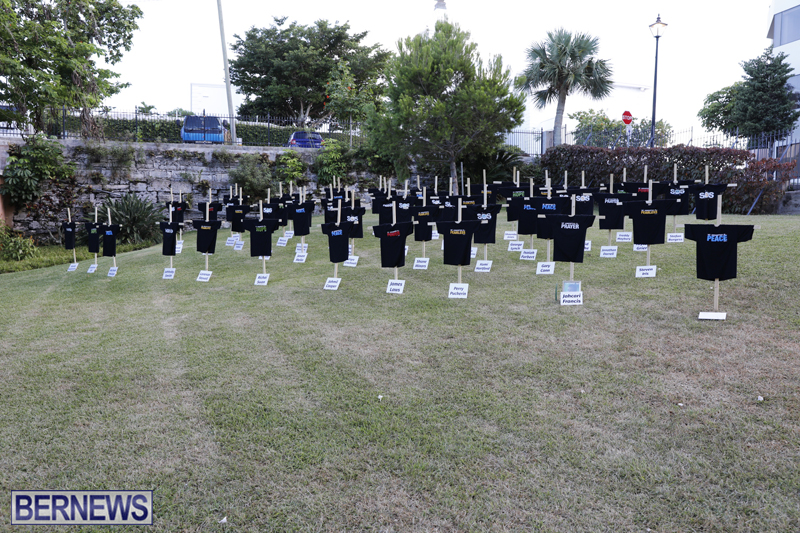 "After we look at those 51 crosses, it's about 80 kids without fathers," he said. "I am just trying to bring people together to comfort their families; the mothers, fathers, grandparents, uncles, aunts, brothers, sisters and kids who have lost somebody."
"I'm just encouraging people to come out, be a part, and just support these families," he added.
Read More About