[Opinion column written by Junior Minister of Finance Wayne Furbert]
After completing one of the longest Parliamentary sessions in history, it was very rewarding to hear the good economic news from the Premier on Friday.
Government Revenues are up.
Government spending is down.
The deficit is down by 24%.
Visitor air arrivals are up.
Employment in the economy is up.
When we entered office, we received a mandate for change and cast aside the old way of doing business that saw Bermudians relegated to economic refugees or mere observers on the sidelines of the economic success of our country.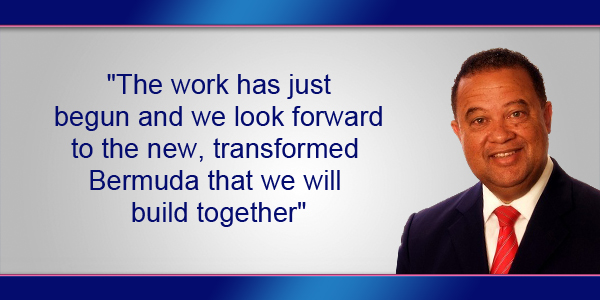 We knew that too many government departments were understaffed, too many civil servants were underpaid and that the services being provided to the public were suffering as a result.
We knew that too many Bermudian students had found themselves locked out of higher education due to ruthless cuts to scholarships.
We knew that too many of our seniors were falling further and further behind as the cost of living went up, but their pensions hadn't kept up.
This shift in priorities, this readjustment of priorities was criticized and disparaged, but we knew we could not be distracted by the naysayers from the job you elected us to do and the numbers speak for themselves and that our approach of targeted investment in growth, while maintaining fiscal discipline is working.
Despite giving public sector workers a long overdue pay increase, and lifting the hiring freeze which saw many government departments being dangerously short of staff, spending is down this year; and expenditures are presently tracking slightly below budget estimates.
This First Quarter performance shows that our approach; doing more for seniors, more for our youth and more to reduce the burden on hardworking Bermudian families works!
We kept our pledge to invest more in tourism and Bermuda is reaping the results of that investment. From April – June 2018, with figures compared to the America's Cup in 2017, visitor air arrivals are up by 5.4% and hotel occupancy was up by 4.8%.
The PLP promised to put Bermudians first, and to make investments that stimulate entrepreneurship and create economic growth. By analyzing contributions to Social Insurance it has been determined that there are 322 more people working this year than in 2017 and of that number 83% were Bermudian.
Government revenues are up, Government spending is down, our deficit is down by 24%, air arrivals are up, and there are 322 more jobs in the Bermuda economy than last year. This is truly great news but we know that much work remains to be done.
There are still too many Bermudians struggling to make ends meet.
There are still too many Bermudians struggling to find affordable housing.
There are still too many Bermudians who have the desire to work but lack the opportunity.
Healthcare costs remain too high.
Our tax system remains unfair.
These are the challenges that we, as your government will take on and we know that with your support, we will overcome.
We recognize that we have and will make mistakes. We recognize that we don't have all the answers and that the best ideas and solutions can often be found within the minds of the average Bermudian.
Despite this, we know that our heart is with the Bermudian family who need to see their pay go further and who want a better future for their children; it is with our seniors seeking dignity and respect after their years of work and sacrifice and it is with the next generation of Bermudians who just want a Bermuda where they will be included, where hard work is rewarded and where they can meet their responsibilities and set aside for the future.
The work has just begun and we look forward to the new, transformed Bermuda that we will build together.
- Wayne Furbert

20 Most Recent Opinion Columns

Opinion columns reflect the views of the writer, and not those of Bernews Ltd. To submit an Opinion Column/Letter to the Editor, please email info@bernews.com. Bernews welcomes submissions, and while there are no length restrictions, all columns must be signed by the writer's real name.
-
Read More About