[Written by BPSU President Jason Hayward]
The recommendation to implement a minimum wage and establish a Wage Commission to determine a living wage standard is a significant step in the right direction. These interventions in our society will undoubtedly improve the lives of many workers in this country. The Bermuda Public Services Union [BPSU] applauds the work done thus far to get us to this point.
Throughout the world, there has been a growing recognition for the need to establish a living wage. The international community, and in particular, the International Labour Organization [ILO], acknowledges a living wage as a human right. The ILO notes in the preamble to its constitution that "a living wage is required to ensure universal and lasting peace."
There should be no doubt that some people in Bermuda are struggling financially. Employment statistics reveal that there are persons in Bermuda who fall in a category beneath the "Low Income Threshold". The cost of rent, food and other basic necessities have steadily risen over the years, while wages in many sectors have not similarly increased.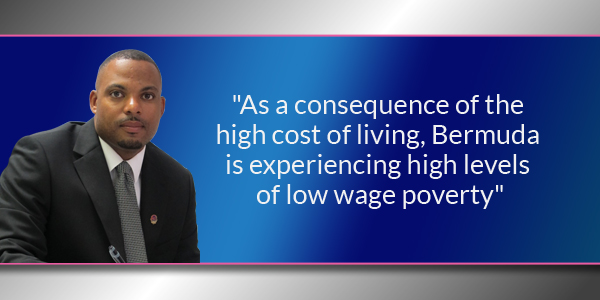 During the recession, in particular, there have been instances where workers have taken a decrease in pay which has diminished purchasing power for many households. As a consequence of the high cost of living, Bermuda is experiencing high levels of low wage poverty.
The 2016 Population and Housing Census Report revealed that the disparity in the median annual personal income by race has widened over the intercensal period with Blacks experiencing a 13% decline in income levels in comparison to a 1% increase for Whites.
The median annual income also declined for persons who do not possess a bachelor's degree or higher. These declines in income for Bermudians, coupled with the steady increase in the cost of living, has resulted in a marked reduction in purchasing power and, consequentially, the quality of life.
Data suggest that there are over 3,557 jobs in Bermuda's economy with annual incomes below the suggested low-income threshold hourly rate of $18.23. Approximately 1,923 employees in the hotel and restaurant sector make less than the suggested low-income threshold rate.
While the impact of poverty in Bermuda may not be as easily recognisable as in other jurisdictions, over the last several years, there has been a significant increase in the number of working families seeking financial assistance and other means of social support.
The demographics of persons seeking support have also changed. Historically, mainly unemployed or retired persons have sought support, but now persons who hold full-time jobs or who are underemployed also require assistance.
Bermuda's high cost of living is unbearable for many and it is becoming an increasing challenge for some. The high cost of living has persons in Bermuda struggling each month to make ends meet. Many families are living paycheck-to-paycheck and are unable to save, causing individuals to accumulate unsustainable debt levels.
Emigration statistics show that, on average, 177 Bermudians leave the Island per year. Many leave because Bermuda has become unaffordable and employment opportunities are limited.
I have had the opportunity to be a part of both the Labour Advisory Council Living Wage Sub-Committee and the Joint Select Committee on the Implementation of a Living Wage Regime. From my participation in these committees, I categorically conclude that many people are struggling.
Improving salaries/wages, while a necessary step, is only a part of the measures needed for improving the quality of life for many Bermudians. A holistic approach is needed to adequately address the long-standing inequities that continues to perpetuate within our society.
Our tax system, which currently places the highest tax burden on persons that can afford it the least, must be reformed. Additionally, we must earnestly tackle the cost of living, primarily addressing the high cost of both housing and healthcare.
- Jason Hayward

20 Most Recent Opinion Columns

Opinion columns reflect the views of the writer, and not those of Bernews Ltd. To submit an Opinion Column/Letter to the Editor, please email info@bernews.com. Bernews welcomes submissions, and while there are no length restrictions, all columns must be signed by the writer's real name.
-
Read More About