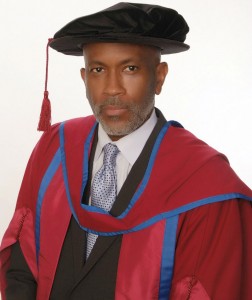 Bermudian Dr. D. Anthony Richardson recently received his double designation of Master of Philosophy and Doctor of Philosophy and Legal Studies from the University of London's Institute of Advanced Legal Studies.
While at the University of London, Dr Richardson was elected as an Associate Editor and subsequently as Editor-in-Chief of the University of London [IALS] Law Review, utilising his specialist legal academic and practical knowledge and experience.
Dr Richardson already has extensive experience in the law, having practiced for a number of years.
In 2014, in conjunction with his dual degree studies at the University of London, Dr Richardson was selected by the United Nations Security Council's Counter-Terrorism Executive Directorate, by way of a highly competitive global selection process, to join them as a Legal Research Intern.
His selection and employment by the Security Council resulted in Dr Richardson becoming the first Bermudian Attorney to work at the Security Council's Headquarters in New York City.
In his capacity as a legal academic, Dr Richardson is now currently pursuing admission as a Harvard Law School Visiting Scholar, specialising in comparative law, international comparative law and international comparative tax law, and is currently considering offers to become a Lecturer or Visiting Professor of International Law at various University Law Schools.
Read More About
Category: All