[Updated] The owner of an African Grey Parrot named Ozzy is asking for the public's assistance in locating the animal, described by its owner as a "spoiled bird and survival skills are lacking."
The bird, which has been missing since Saturday [Sept 29] is physically described as being "light grey with a red tail and black hooked beak; larger than a pigeon."
A missing poster for Ozzy says, "She responds to her name if you call out – please listen for a series of sounds effects, whistled tunes, or noises in the trees in your yard. Best time and places to listen are early morning [sunrise] and evening [sundown]."
Anyone with information as to Ozzy's whereabouts is asked to call Stephanie at 504-9282.
Update 3.25pm: New poster below with additional information on location, Ozzy  is "suspected to be within a 1 to 3 mile radius of Botanical Gardens."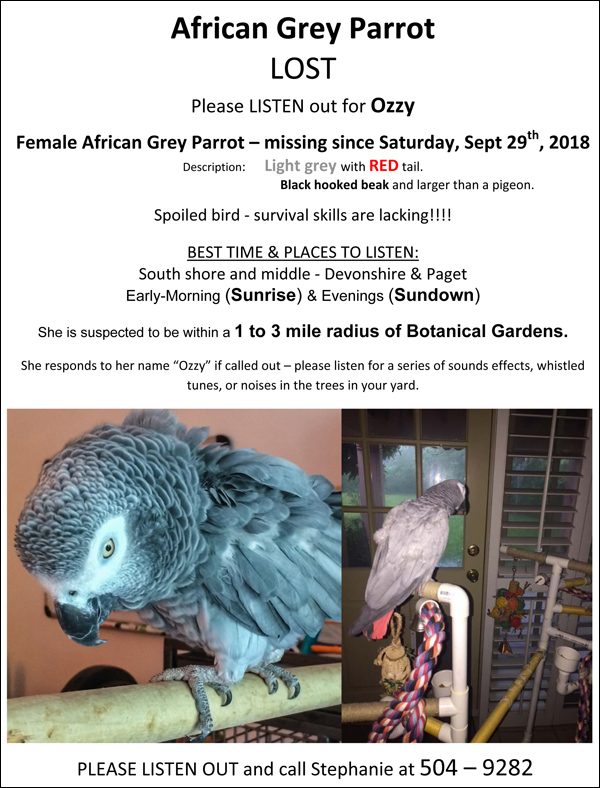 Update 5.35pm: The bird's owner said, "Thank you to everyone who has had the compassion to help spread the word. Thank you Bermuda. Even though it feels futile to search for a bird, I really cannot shake the incredible guilt I feel if she is suffering and waiting to be rescued. I have to at least try to find her.
"Ozzy is 9 years old. She was hand-reared, and is not a confident flyer. This has never happened before so this is her first time outside in the elements. This will be her third night out there – she is particularly sensitive to being wet and cold.
"She took flight just to the east of the top of Tee Street. She was headed directly south toward south shore road Devonshire [down Tee Street when I lost sight of her], but the wind was strong and could have carried her south-west.
"Our biggest hope of finding her is someone hearing her.
"She does sound like a kisadee or a other birds, sometimes – and she may be trying to blend in with the other birds – but it is usually followed but another random sound or series of noises – so keep trying for a while.
"She is grey with a red tail and black hooked beak. She may look like a pigeon from a far, which makes her hard to spot – but she won't sound like a pigeon.
"She is terrified of everything.
"Generally, when she flies in the house, she crash lands somewhere on the floor, and she looks for somewhere to hide – a dark cozy spot – until I come and scoop her up off the floor. If that is any indicator of what she may be thinking now, she may still be somewhere at the bottom of Tee Street / Botanical Gardeners, Hungry Bay, Happy Talk, Kent Avenue, Seabright Ave, just waiting to be rescued; which would make her vulnerable to cats and/or other birds.
"But, if she has taken flight again, we have to assume she could have been carried even further south-west with the strong winds. So even if you live outside of Devonshire and Paget, I still beg you to have a look.
"I am appealing for people to have a walk around their properties and in their neighborhoods this evening and tomorrow morning, and the next few evenings and mornings. She is the most vocal between 6:30am – 9:00am and again at 5:30pm – 8:00pm. Please have a look in your yards – call out to her by name "Ozzy" or whistle a short tune [any tune] and wait for a response. It may take a few tries, you may dismiss the first few sounds [thinking is a normal bird or a sound from the neighbor's yard], but once she starts chatting – she usually gets going.
"Please check the little corners around your house for potential hiding spots. You may find her on a man-made structure like rooftops, kids play areas, jungle gyms, phone poles, and death tree limbs. Since is scared of everything – a big dense tree may be too terrifying with all this wind – so look in open areas too.
"My hope is that if there are many people spread out throughout the island calling to her name Tonight and Tomorrow morning – she may hear one of our cries, and someone else in a different neighborhood/or the over hedge line may hear her cries.
"Spoiled parrots do not have the skills to forage for food. I tried to introduce her to all sorts of things to break her fears of things. I can only hope that all the foraging toys were enough to encourage her foraging skills and instincts. Sadly though, wild birds have their parents and folk to show them how to find water, what to eat and, more importantly, what not to eat.
"Thank you to everyone – I have encountered so many wonderful people in my search for Ozzy and I just want to say thank you to everyone for the compassion and empathy they have shown me."
Update Oct 2, 11.16am: Ozzy's owner has shared a video of the bird vocalizing with the hope that it helps people to recognize her calls if they come across her.
Update Oct 5, 8.53am: Ozzy's owner said, "Ozzy was found dead this morning. You may end your search.
"I am devastated and processing. She was the best bird. I will never meet another like her.
"I will find a way to thank those strangers who really helped me look for Ozzy, those who wrote messages in support, and those who greeted me at their door, or on their walks with empathy and a kind word. Those who allowed me to walk around their properties to look for her. You melted my heart."

Read More About