Kingdom Dynamics TV, broadcast by the First Church of God, and the Seventh Day Adventist channel have been added to Digicel's TV channel line-up, the company said today.
"This is the first time the two channels will be available to view in HD," the company noted. "Additionally CEEN TV has also been added to the line-up and the channel, which is new to Bermuda, will air the best in Caribbean entertainment, current affairs, music and sports.
"This follows the addition of four exclusive channels dedicated to UEFA Champions League so football fans can see more of Europe's premier club football tournament.
Nigel Taylor, Digicel and Bishop Lambe, First Church of God, signing the agreement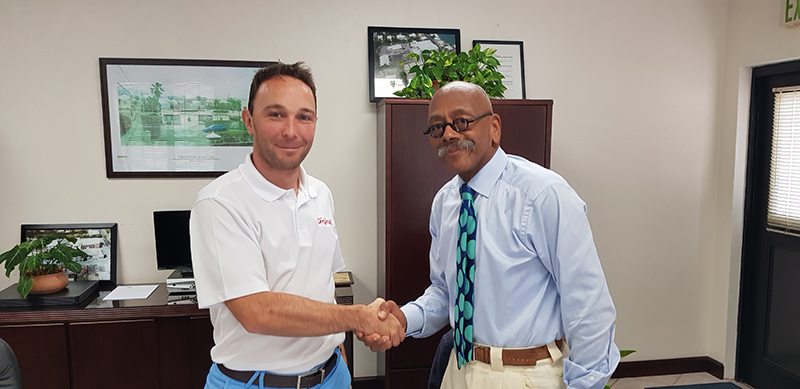 Digicel's Nigel Taylor said, "As the newest TV provider in Bermuda we continue to shake-up the TV market by giving people a TV service they deserve. We've the best U.S. and international shows and sports, more HD channels as standard plus lots of innovative features like pause & rewind TV, a multi-screen app and a 7 day catch up service so our customers will never miss their favourite shows."
"We are constantly adding to our channel line-up and the addition of KDTV, Seventh Day Adventist and CEEN TV follows on from the addition of 11 new channels showing premium U.S. and international shows and sport. We are constantly working to add new content to provide even more entertainment and value to our customers.
"I would like to thank Bishop Lambe and the team at the First Church of God for their co-operation in getting KDTV live on our Fibre TV service. We are as excited as they are to ensure as many of the Church's congregation can watch the Church's programming in HD."
Digicel added that "KDTV is available to view in HD on channel 85, Seventh Day Adventist is on channel 80 and CEEN TV is on channel 4."

Read More About
Category: All, Business, News, technology