Dandy Town confirmed themselves as the first finalist for this year's Friendship Trophy competition via a hard fought 2-1 victory over cross-town rivals Boulevard at The Den yesterday.
A pair of first half goals from the Hornets attacking tandem of Kwame Steede and captain Angelo Simmons, who scored a goal apiece, ultimately held up, but barely so as Blazers revealed much to advance their tally, but were too often thwarted by the fierce, determined and skillful protectiveness by Hornets' goalkeeper Jaiden Manders or their own ineptitude at finishing moments.
Time and again, the teenage prodigy Manders showed greatest at the instants of truth blocking, smothering, punching or plucking the Blazers' attempts, with his only blemish coming as a result of a early second half, Boulevard penalty that he yet was able to initially deny at the first attempt, but was beaten on a smart follow-up score by Tekyhi Walker to Ian Coke's failed conversion of the spot-kick.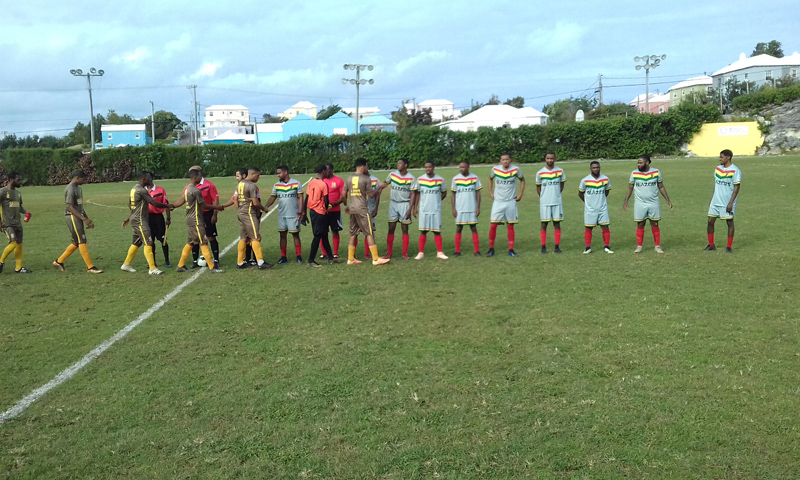 In a affirmative display of soccer, the first half revealed Town emerging purposefully from the gate with flowing forward movement that caught a tardily protrusive Blazers unready and paid dividends after just four minutes when their central defender and last man inexplicably allowed a searching cross from the right side to elude his head and fall to Steede who had crept in behind the defensive line to side-foot home past Ronniko Burchall in goal.
While Town continued to move in strength as Simmons appeared to be showing no sign of the ankle injury that had placed his participation in question, scheming well with Steede and placing great pressure on the opponents.
The pressure resulted again in a Blazers implosion as Town's right full-back, Eusebio Blankendal, from deep on the right, sent in a pinpoint cross over the top and landing at the feet of Steede at the back post. The striker unselfishly eschewed taking a shot himself to centre into the path of a charging Simmons who demonstrated just why he is Town's top scorer with a clinical finish from eight yards out that gave Burchall absolutely no chance to react.
Wobbled by the twin strikes Boulevard rose from the canvass moments before the end of the half when they were awarded a penalty by referee Anthony Francis for a Town handball in the penalty area.
However, Manders initially averted the danger with a low save to his left of Ian Coke's kick, only to have the rebound fall perfectly for Walker, who plundered home from inside six yards.
Blazers returned refreshed, revived and with greater urgency for the second stanza and would further ignite as they secured positive momentum and made it Town's turn to defend and absorb compelling force. Still Manders was up to the task, saving apparent sure scores from the likes of Coke, Earnest Trott and Walker, the clincher a point blank reaction stop on the stroke of full-time to confirm his side's march to the New Year's Day final.
Boulevard player/coach Coke indicated Manders as the primary difference between the two teams.
"The young man stepped up and did a great job for them in holding us out and to me he was their MVP today," said Coke, among local soccer's top goal-poachers and not commonly denied.
"The early setback really hit us and hurt us early. We were able to get back into the game and have a chance in the match which you saw later on in the game where we had quite a few chances that if we would have capitalised it could have changed the match."
Coach Devarr Boyles was pleased with his charges on the day after struggling but winning ugly in the previous quarter-final, while also jabbing at ref Francis' officiating as a burden they'd also had to overcome
"It's all about finding a way to win and we did that," said Boyles afterward. "And I think the referee found a way to balance the game.
"But I thought that Boulevard responded well and the early goal certainly encouraged us and it was a key moment to get ahead, but my team has to develop and find a way to handle being on top and having a team come back at you…what do you do? I think we kind of struggle with that and did so today."
Such will be a matter to perhaps consider in preparations for the upcoming final clash against either Robin Hood or defending champions PHC, with both demonstrating irrepressible attacking form sure to press their ability to remain composed under stress, however Boyles was not overly concerned about either.
"Finals motivate everybody, so there's nothing to prepare for." he said. "It perhaps helps us that we've played our match first and that we can maybe do some things in training, but it's more now about spirit and keeping them reminded of what they do well."

Read More About