Shadow Home Affairs Minister Sylvan Richards today "publicly thanked Government for clearing a backlog of work permit applications thereby recognizing the importance of guest workers to Bermuda."
Mr Richards said, "I had tabled Parliamentary questions asking how many work permits were granted from September to November and in response, Minister Wayne Caines said that during those three months 2,205 permits had been approved.
"The Minister also broke down the figures to show there had been 1,350 one to five year permits approved. Of note is the fact that the number of permits approved in November of 2018 were more than double the number of work permits approved in September of 2018."
Screenshot of the chart showing the responses to the Parliamentary Questions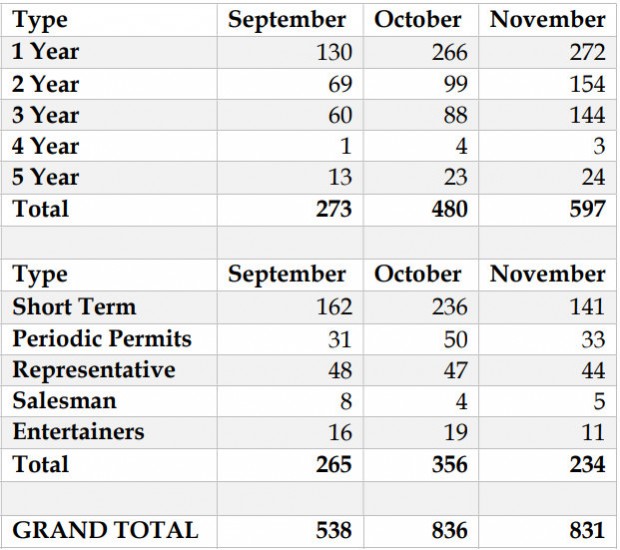 "I would like to take this opportunity to thank the Minister with responsibility for Immigration for recognizing the importance of guest workers to the sustainability of our overall economy and I commend him for working expeditiously to approve these backlogged work permits," Mr Richards added.
"Of equal importance, I would also hope that in clearing the backlog left by his predecessor ample attention was given to ensuring that qualified Bermudians were carefully considered for these positions.
"I am curious, also, as to what percentage of these work permit renewals actually went before the Immigration Board for vetting, but that is a question for another day."
The Parliamentary Questions & Answers follow below [PDF here]:
Read More About