Eight local secondary schools received $30,000 each at the culmination of PartnerRe Ltd.'s Dollars for Hours project that pairs student volunteers with local charities on community projects.
At a showcase hosted this evening [Dec 4] by PartnerRe to celebrate the students' achievements, PartnerRe's Brand Manager, Jaime Masters McDowell and Junior Minister of Education Senator Jason Hayward congratulated the students on all of their work and thanked everyone involved for their contribution to the Dollars for Hours initiative.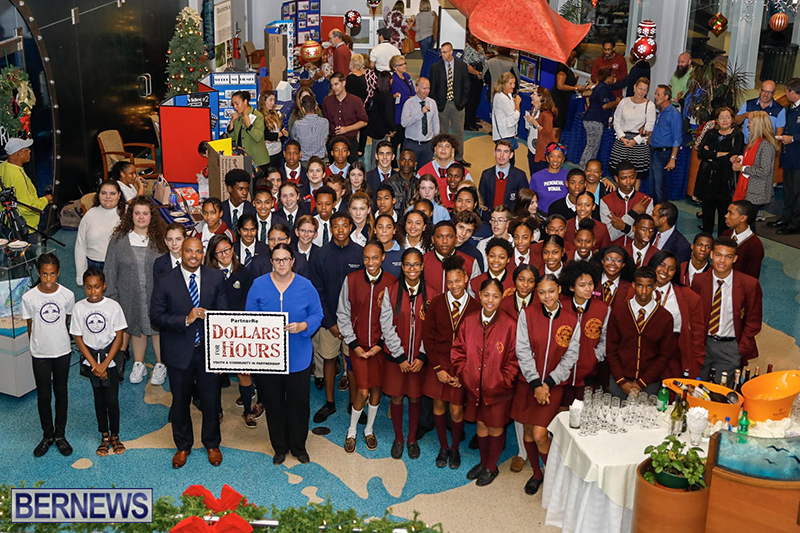 "2018 marks our thirteenth Dollars for Hours showcase and another important milestone – PartnerRe's 25th Anniversary. Bermuda has been our home for the past 25 years and we have a special responsibility towards the Bermuda community and education is important to us," said Jaime Masters McDowell.
Over the years, Dollars for Hours has had more than 2,000 students donate 26,600 hours of hands-on support to local charities for a total donation of close to $3 million to Bermuda's secondary schools.
This year, the students, aged 14 to 18, successfully completed projects ranging from environmental schemes, educational projects and social initiatives.
The 9-minute live video replay is below:
Participating schools will use the funds for: curriculum development, facility upgrades, student support programs, extracurricular activity support and IT upgrades.
This year's projects include:
Bermuda Institute and PALS – Thrift shop organization project.
MSA and Westmeath – Yard work, painting and interacting with the residents.
Saltus and Windreach – Windreach petting zoo habitat project.
Warwick Academy and Habitat Bermuda – Pembroke Rest Home refurbishment project.
BHS and Phenomenal People – Creative non-fiction book project.
Somersfield and Bermuda International Film Festival – Film challenge project.
Berkeley and the Reading Clinic – Custom built tutoring furniture project.
CedarBridge and Bermuda Audubon Society – Bluebird nest box project.
Read More About