AIRCARE recently completed the "installation of the first ever nitrogen generating plant in Bermuda," the company said.
"Nitrogen is used frequently by AIRCARE technicians for installing, testing and cleaning HVAC systems as well as in specialist fire suppression systems. Prior to installing the new plant, obtaining nitrogen on island-was not only costly but also could be unreliable," a spokesperson said.
"The idea to buy a plant to produce their own nitrogen was discussed among staff and after considerable investigation and discussions with manufacturers, a North Carolina based company built the nitrogen plant that is housed in a standard shipping container and located at the AIRCARE facility.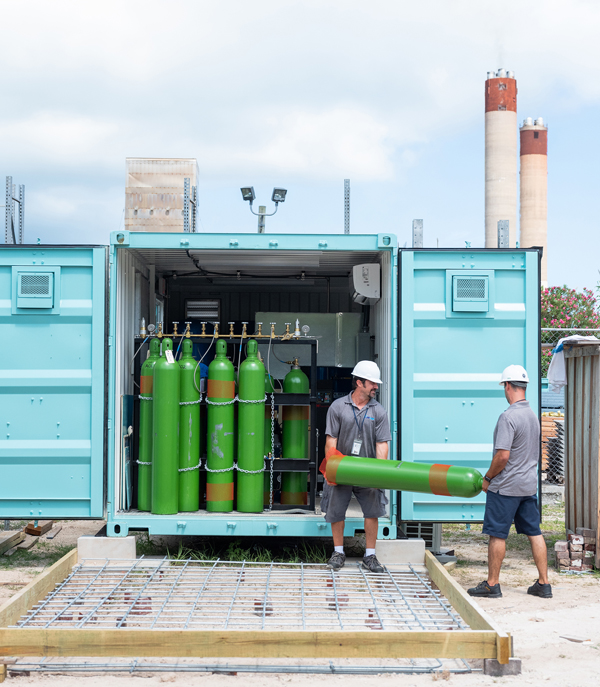 "The nitrogen produced is very high quality, 99.9% pure, which is termed 'medical grade' nitrogen so can be used in medical facilities such as the hospital.
"The plant is a critical investment for the Company as without it, installing large-scale HVAC systems would be very difficult. Having a ready supply of nitrogen is also critical for our customers who have fire suppression systems.
"If a fire suppression system is discharged there is a liability in the period between the discharge and when it can be re-filled and ready for another fire. Having a readily available supply of nitrogen on island ensures minimal down time and reduces liability for AIRCARE's customers.
"Nitrogen is non-flammable and the system was commissioned by the manufacturer who gave AIRCARE staff on site training on the system."
Read More About