The Bermuda Underwater Exploration Institute will present a talk entitled "5 Million Steps: Hiking The Entire 2,200-Mile Appalachian Trail" with Rory Groman on Thursday, March 21st.
The event poster says, "The United States' Appalachian Trail from Georgia to Maine is the longest hiking-only trail in the world. It is often described as the toughest trail in the U.S. Of the estimated 3,400 hikers who attempted the full AT 'thru-hike' in 2017, only 848 completed it. One of those was Bermuda's Rory Gorman.
"Come hear how Rory, despite being a hiking and camping novice, accomplished this epic adventure. Hear about the gear he used and carried all the way, the people and wildlife he encountered, the highs and lows he experienced."
The presentation will get underway at 7.30pm at BUEI Auditorium, with a Sushi Happy Hour and A la Carte Menu to be held at Harbourfront at 5.00pm. Tickets cost $20 for members, $25 for non-members and $12 for students, and are available by calling 441-209-0204 or visiting BUEI's Oceans Gift Shop.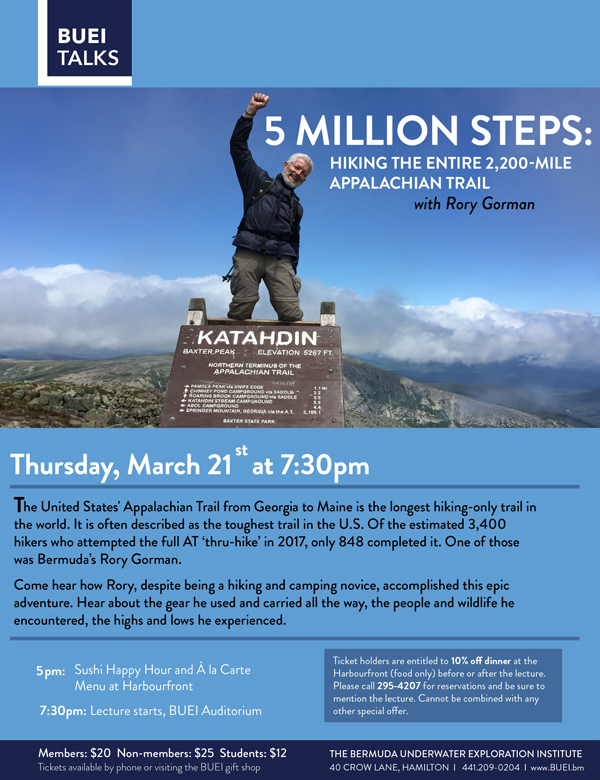 Read More About
Category: All