A new professional association for coaches is being launched this week, with the Bermuda Coaching Network  on a "mission to unleash the untapped potential" of every individual, company and organization in Bermuda.
International Coaching Week [ICW] is an annual weeklong global celebration of the coaching profession. ICW 2017 will take place May 15–21, 2017. The Bermuda Coaching Network has chosen this time to launch as the professional association for coaches in Bermuda.
The Bermuda Coaching Network said in the short term will:
1. Set standards for coaching in Bermuda
2. Increase knowledge and awareness of coaching and its value
3. Act as a resource for coaching certification
4. Create a support network for coaches
Pamela Barit Nolan, Keema Perry, Jessica Lightbourne, Randy Vaucrosson, Norma Nielsen [Missing: Richard Bassett]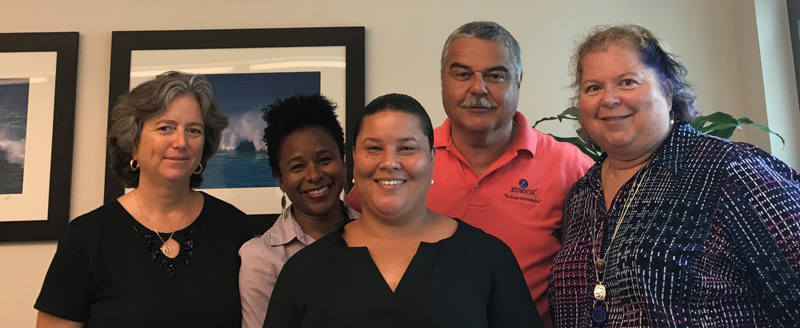 t
The Leadership Committee Members for the Bermuda Coaching Network include:
Pamela Barit Nolan, ACC – Certified Coach and owner of Transform [Bermuda]
Richard Bassett – Certified Coach
Jessica Lightbourne – Certified Coach
Norma Nielsen, PCC – Certified Coach and owner of Clarus Connect
Keema Perry – Certified Coach and owner of Powerhouse Academy
Randy Vaucrosson, ACC – Certified Co-Active Coach at Clarus Connect
Ms. Lightbourne, Chairman of the Bermuda Coaching Network commented: "Our mission is to connect Bermudian residents and companies with qualified and competent coaches to assist with personal transformation and growth in all sectors of the community.
"Coaches have the ability to make what seems impossible possible. Who doesn't need more of that in their lives? We are here to ensure that Bermuda coaches are second to none".
Information about the Bermuda Coaching Network can be found at www.bdacoaching.com. For more information, contact the professional association at bdacoaching@gmail.com.
Read More About
Category: All