Last week, Junior Minister of Finance Wayne Furbert met with members of the Board and the Chief Executive Officer of CCRIF SPC, formerly the Caribbean Catastrophe Risk Insurance Facility.
Representatives of CCRIF SPC: Mrs. Faye Hardy and Mrs. Saundra Bailey, Members of the Board of Directors; Mr. Timothy Antoine Chairman; Mrs. Desirée Cherebin, Vice Chairperson; Mr. Isaac Anthony, Chief Executive Officer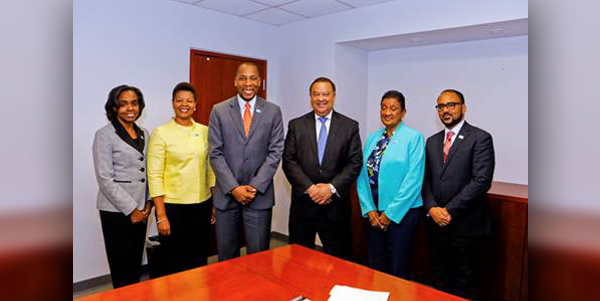 CCRIF held its board meeting for this quarter in Bermuda on March 20th and 21st and requested a courtesy call. Bermuda is recognized as one of the founding members and one of the original donors . The meeting was an opportunity to meet some of the members on island as well as to discuss the issues related to Bermuda's CCRIF catastrophe insurance coverage.
Established in 2007, CCRIF provides tropical cyclone, earthquake and excess rainfall insurance to Caribbean – and since 2015 – Central American member countries.
Since its inception, CCRIF has made 38 payouts totaling approximately US$139 million to 13 member governments – including payouts totaling almost US$55 million to 9 members after Tropical Cyclones Irma and Maria in 2017. All CCRIF payments were made within 14 days of the event.
Other CCRIF representative: Ms. Elizabeth Emanuel, Corporate Communications and Technical Assistance Manager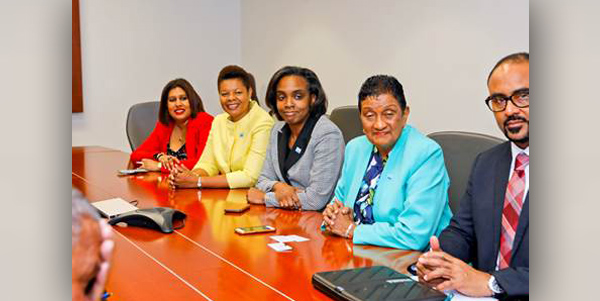 Currently, there are 21 members: 19 Caribbean governments and 2 Central American governments – with 4 countries joining during this policy year 2018/19.
The Junior Minister was joined by the Finance Secretary, Mr. Anthony Manders and the Assistant Financial Secretary, Mr. Wayne Brown. The Finance Minister was off island.
Read More About
Category: All