[Written by Don Burgess]
A Bermudian businessman isn't allowing a logistical hassle to discourage his appetite for tourism.
Antwan Albuoy and Shena Virgil of Kinezumi Watersports have had to sell one of its Seabreachers to meet financial obligations.
Mr Albuoy told the Bernews, "This experience hasn't soured my taste or my zest for Bermuda tourism. It has just hardened my resolve."
The Seabreacher is a two-seat water vessel that can both briefly glide under the water before leaping into the air out of the water.
Kinezumi Watersports had been entangled with red tape in trying to find a suitable location to run the SeaBreacher. The company lost almost all of the 2017 summer season and more than half of the 2018 season before being allowed to operate.
Photo posted by Mr Albuoy on social media: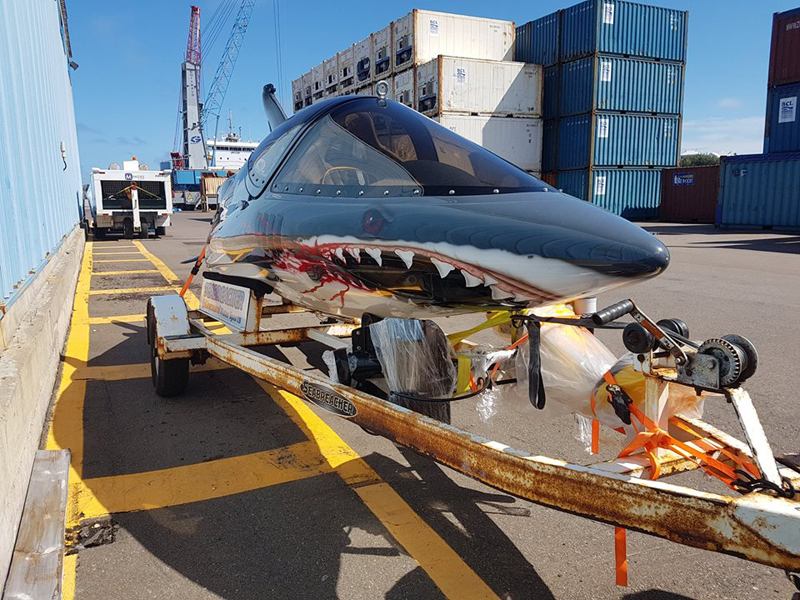 The business took out a loan in 2016 to purchase the semi-submersible watercraft after getting pre-approval from the Port Authority the previous year.
After submitting eight locations to operate, four in the east end and four in the west end, Kinezumi was given permission to set up business at Coot Pond. The next year he added a second Seabreacher, as well as jet skis to the mix as he wanted something to offer other family members who were not adventurous enough for the Seabreacher. He had also applied to be allowed to run Banana boats.
The Port Authority then received complaints, and Kinezumi were informed that there were environmental considerations and would need to find somewhere else to run their water sports business.
"In 2016, everyone knew – the area residents, the politicians, the fishermen – that we were launching the Seabreacher from Coot Pond, but there were no complaints. The complaints started coming about in 2017 when the jetskis were added," he said.
The Corporation of St George gave Kinezumi permission to use Hunter's Wharf, but the company then needed planning approval to set up a floating dock. That was only granted on September 15 with most of the good summer tourist season gone.
As he only had a one-year lease with the Corporation, Kinezumi had to reapply for permission for Hunter's Wharf, and then reapply with the Planning Department. This time the process was much faster, but it wasn't until June 2018 the company was allowed to operate, but once the piles were put in, it was July.
"We're weren't earning any significant income. So even though we weren't earning any significant income, the expenses were still coming in," Mr Albuoy said. "We made the decision to sell it."
He added the buyer came to Bermuda in January to check out the vessel. After making some repairs, it went to the dock on March 1 and left Bermuda for its new home on Wednesday of this week.
In spite of all that has transpired, Mr Albuoy is ready to try again with a new venture.
He added he has another business idea which "ticks all the boxes for the BTA's beach tourism initiative, but I'm 95% sure it will be declined because one of the Port Authority's policies knocks up against that. But I'd rather them tell me 'no' rather than me telling myself 'no.'
Mr Albuoy said his new idea would employ six people in its first year and about 18 in the second.
Read More About