[Written by Mikaela Ian Pearman]
Afternoon tea is a favourite of mine. I book it a couple times a year and thoroughly enjoy it every time.
One of the parts that's most exciting to me is to enjoy high tea at various locations around the island to see how they compare. Some are casual, some are mid-range and others are super fancy. I tend to go for mid-range.
Over the weekend, I had the pleasure of enjoying afternoon tea at the Conservatory at Rosewood Bermuda with my husband. Before I get into a review of the food, I have to say the venue was absolutely gorgeous! The new conservatory is contemporary and airy with a retractable sun roof. It also happened to be a beautiful, warm day, which made the experience even better.
We started off with a glass of prosecco as we ordered our tea. I opted for Earl Grey while my husband ordered Japanese Green tea. This tea goes into the category of fancy based on the menu. There were scones [my fave], sweets and savories. But the savories are where it got a little fancy.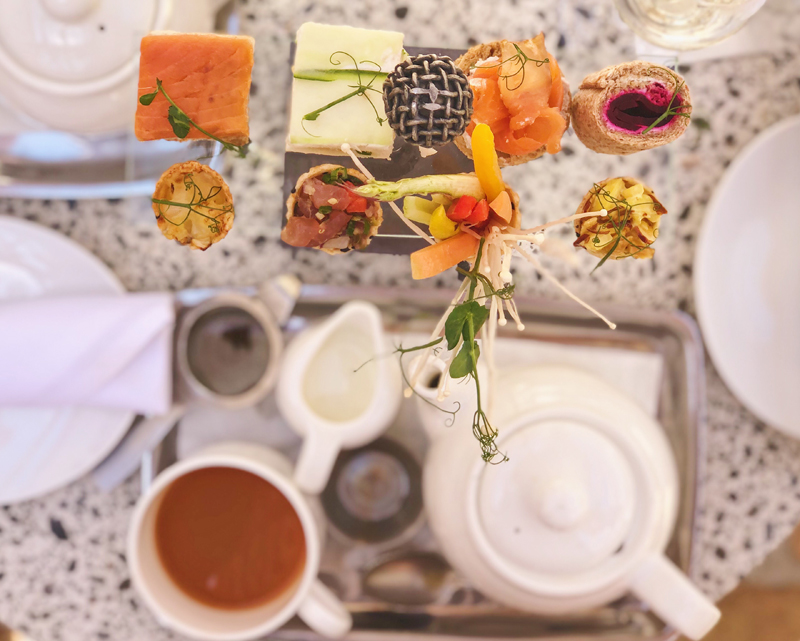 The savouries included sandwiches and cornets – something I've never seen for tea before. The sandwich selection was a great variety including crab and smoked salmon, cucumber and cream cheese, beetroot and Tucker's Farm goat cheese and roast beef with horseradish. Being that we don't eat any meat, the chef gave us smoked salmon instead of roast beef.
The cornets were basically savoury mini ice cream cones. They were filled with quiche Lorraine, the premier's chicken salad with mango almond curry, local yellowfin tuna tartar and hummus with crudites. We were able to have the quiche without bacon to fit our dietary needs.
The sandwiches were flavour bombs in each bite. I loved how simple they were, yet absolutely delicious. The cornets were creative, delectable bites as well. I loved how different they were from any other tea I've had in Bermuda and at the same time, very simple.
Now on to my favourite part – scones. The scones were light and fluffy and only made better with a generous smear of clotted cream and strawberry loquat jam. The jam was tart and paired beautifully with the cream.
For the sweets, we enjoyed passion fruit meringue tarts, strawberry tarts, rum cake and banana bread. They were all wonderful morsels, but I enjoyed the savouries more.
Overall, I would highly recommend this tea. Not only was the menu incredible, but the venue itself was stunning. That alone would have me coming back for more.
Afternoon tea at Rosewood Bermuda is $48 per person.

Read More About
Category: All, Entertainment, News