The Bermuda football team will play Guyana on June 6th at the National Sports Center, marking the final preparation match before our National Team departs for the 2019 Concacaf Gold Cup.
The BFA said, "The Bermuda Football Association [BFA] is pleased to announce the upcoming international match against Guyana Men's National Team, the final preparation match before our National Team departs for the 2019 Concacaf Gold Cup.
"The match will be held at the National Sports Center on June 6, 2019. Gates will open at 6:00 p.m. with the kickoff at 8:00 p.m. Ticket prices are $25 for adults and $15 for U12 and Seniors.
"VIP tickets are $75 which includes premium seating, meal served from 6:00 – 7:30 p.m. and two complementary drinks. Tickets for this international match can be purchased from the BFA Office, Pro Shop and online at PTix.bm.
"The BFA and the National Team were extremely pleased with the tremendous turnout of fans for the last match versus Sao Miguel Azores Select and we encourage our fans to keep this tremendous and continuous support going for our team as they embark upon their journey to the 2019 Concacaf Gold Cup.
"Guyana are one of the sixteen countries that qualified for the 2019 Concacaf Gold Cup and will be making their first appearance in the tournament along with Bermuda.
"This is a significant milestone for both Bermuda and Guyana to participate in the region's most prestigious tournament. The last time Bermuda and Guyana met the score ended 1-1 so this international match will be a chance for both teams to not only fine tune their tactics for the Gold Cup but also an opportunity to achieve bragging rights.
"The 2019 Concacaf Gold Cup will take place from June 15 to July 7, 2019. Bermuda will face Haiti, Costa Rica and Nicaragua during the group stages with the matches being played in Costa Rica, Texas and New Jersey on June 16th, 20th and 24th respectively.
"For those fans planning to support the Bermuda National Team at any of their three Concacaf Gold Cup matches can purchase tickets from the BFA Office at the Clyde Best Center of Excellence in Prospect.
"With the start of the Concacaf Gold Cup just over 2 weeks away, we encourage everyone to mark their calendars and wear our national team colors during in support of this historic achievement."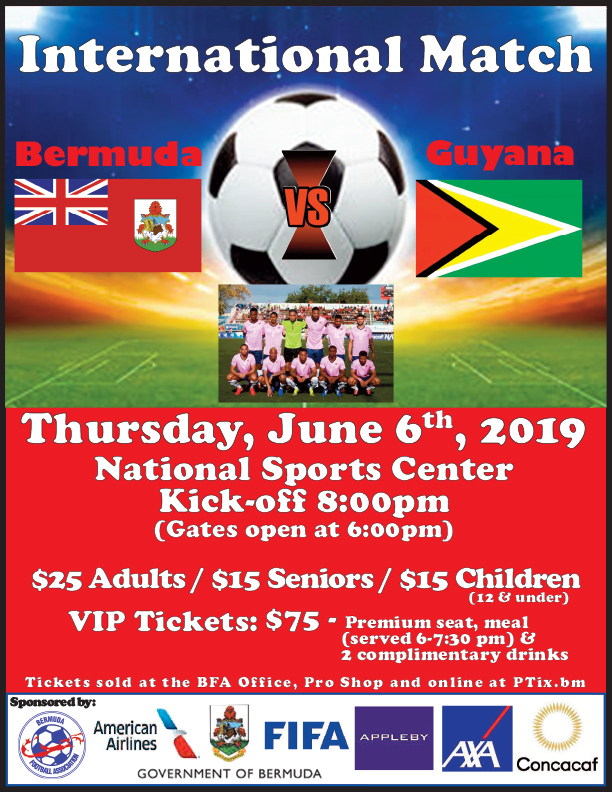 Read More About