The Board Room of Hamilton Insurance Group, the Bermuda-based holding company for insurance and reinsurance operations in Bermuda and at Lloyd's, was taken over by students this past weekend as Code441 held a "mini hackathon" for young people keen to learn how to code.
Code441's founder, Jahde Eve, was supported by Hamilton employees James Robinson, Elliot Hughes, David Berton and Grace Valadao, as well as code mentors Damion Wilson and Dominic Tessitore, during a day-long workshop at Hamilton's Pitts Bay Road offices that aimed to hone the students' skills and enhance their understanding of the opportunities that a career in technology represents.
Twenty students aged 12 to 17 were welcomed by Hanni Ali, Senior Vice President, Risk & Analytics at Hamilton's reinsurance operations, Hamilton Re. After an introductory session led by Mr. Eve, the group broke into five teams. Their assignment: to brainstorm, design, prototype and code new apps on one of two themes: transportation or school.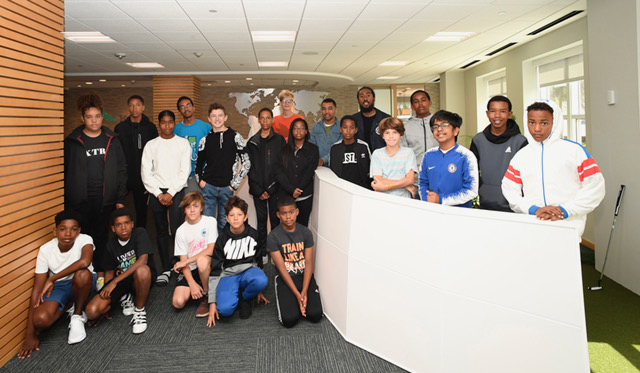 The young coders came up with some innovative designs to real-world problems they face as Bermuda students and residents:
A design for an app that would improve the school cafeteria experience with advance ordering, reviews and parental information. This app was designed to improve pupil satisfaction and reduce work for kitchen staff and food waste.
A design for a feedback system for teachers. Students would provide feedback directly to teachers and teachers would summarize planned lesson work.
An app, including some HTML implementation, that would encourage the use of Twizzys, especially by providing a calculator showing how many Twizzys would fit into one car parking space.
An app, including implementations in HTML and Scratch, for a timetable system and a bus payment system. This app also included a driver/passenger review system designed to improve bus service and remove rowdy passengers.
A ridesharing app written using "Bubble.is" to encourage ridesharing for the trip to school. The motivation behind this app was a desire to remove cars from the road when most students are travelling to the same location.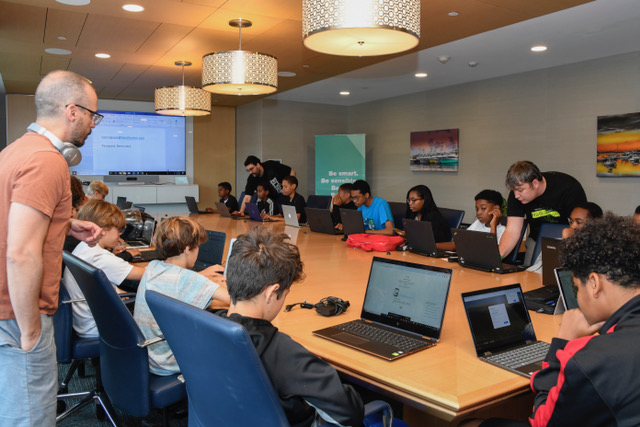 "I'm always impressed by the ingenuity and thoughtfulness of our young people," said Mr. Eve. "They're so aware of their environment, and it's exciting to watch them discover how technology can be a powerful tool for effecting positive change. We have some real talent that can and should be developed as Bermuda builds a reputation for technology expertise."
"I'm delighted to see our Turing Board Room put to such excellent use," said Hamilton Group CEO Pina Albo. "As a company committed to leveraging data science and technology to transform underwriting, our partnership with Code441 gives us the opportunity to support the development of the next generation of computer scientists and software developers. Maybe one of our future employees was busy developing an app last Saturday."
Code441's next mini hackathon will be held at Hamilton's offices on Saturday, September 7 from 9:30am to 4:30pm.

Read More About
Category: All, Business, News, technology