Everything from wood fired pizzas to eKarts to local fashion and jewellery designs will be on show when Destination Dockyard returns for a second season next month.
A spokesperson said, "Sixteen vendors have signed up so far to take part in the event, which starts on Monday [July 1], and features themed weeks ranging from culture fest to a Gospel edition.
"Among the vendors this year will be 15-year-old entrepreneur Andreaz Glasgow, a student at the Berkeley Institute who runs Wafflicious, which makes customized bubble waffles, called Puffles."
"It's a waffle that has spherical shaped bubbles that puff when cooked. The product originated out of Hong Kong and has become popular across the United States for its taste and look," said Andreaz.
"This is my first time doing Destination Dockyard and I decided to get into it after completing the summer student entrepreneurship programme with Bermuda Economic Development Corporation.
"I hope to be able to use this as my stepping-stone to launch this to the Island and eventually be able to do other events."
Bermudians Dan and Deanne DeSilva run Dandesign, an arts and crafts business which started in 1999.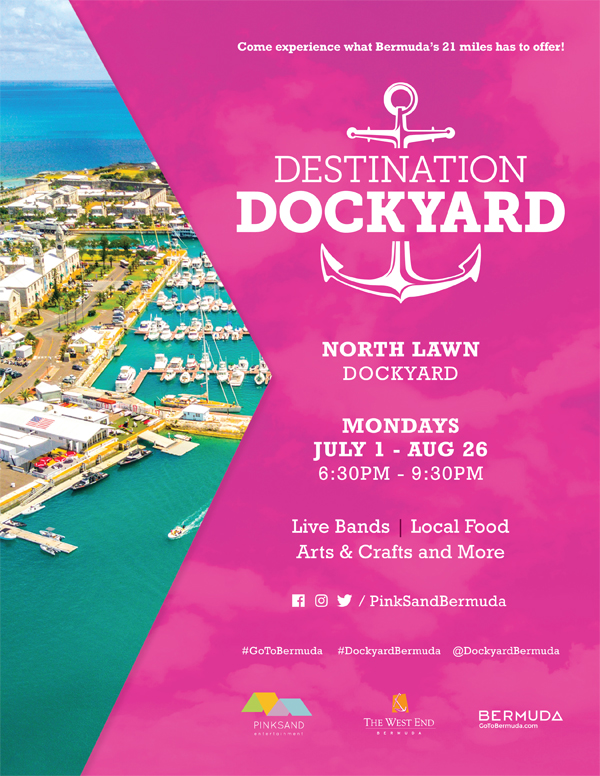 "We love our country and we think that producing art and crafts is a way of representing and promoting our island home," said Dan, a visual artist, who attended the Ontario College of Art and Nova Scotia College of Art and Design.
"Dandesign started by promoting prints produced from work at Dan's first art show, and has expanded gradually to now include a variety of items including original art on display, notecards, crafts and my photography," added Deanne, who pursues photography and produces craft items.
Jennifer Rodrigues' designs are "all a reflection of my love of Bermuda and all that I find beautiful about the Island".
"I started more than 25 years ago and studied metal smithing, wax carving and casting with the Revere Academy of Jewelry in San Francisco.
"My Designs are brought to life by sculpting them in wax, and casting them in sterling silver, which is all designed and hand fabricated in my home studio and incorporates the pink sands of Bermuda's beaches and features the Island's longtail, turtles, and, of course, the Bermuda triangle.
"I didn't take part in Destination Dockyard last year, but am very involved with The Bermuda Craft Market in Dockyard and felt that efforts are being made to promote Dockyard, therefore participation by vendors from the area is important."
Taking part in the event for the first time is Felica DeRoza who runs Butterfli Skin Creme & Natural Soaps.
"I created a skin creme for myself to help with eczema and being more conscious of knowing the ingredients that worked for me.
"People were stopping me to ask what I was using for my skin, from there Butterfli was created, Customers then wanted something they could use in the shower to complement the skin creme.
"I decided to go with natural soaps with a local twist. I incorporate local gooseberries, loquats, prickly pear, aloe, and goats milk."
Vendors attendees can expect to see are as follows: Wafflicious, Rosebuds Fashions/Accessories, Bonefish Bar & Grill, NaKID, Glow Zone, Butterfli, Dandesign, Ashley's Lemonade Stand, Wizdom Naturals, Anchor Restaurant, Bar & Lounge, Cherinas Fashion, Jennifer Rodrigues Designs, Wales Accessories, Mr Givens, Bermuda eKarts and J&B's Wood Fired Pizza.
Destination Dockyard starts on July 1 and finishes on August 26 – every Monday night from 6.30pm to 9.30pm on the North Lawn with the Clocktower Mall being open until 9.00pm in the Royal Naval Dockyard.
Read More About