The official Government and Legal notices for today [June 27] include road sobriety checkpoint notice.

Road Sobriety Checkpoint [No. 9] Notice
Notice Type: Government Notice
Notice Sub Type: Road Sobriety Checkpoint Notice
Notice ID: GN0790/2019
Public Authorities / Department: Bermuda Police Service
Publication date: 27 June 2019
The Assistant Commissioner of Police, in compliance with the requirement of section 35BD[1] of the Road Traffic Act 1947, gives the following Notice:
Road Sobriety Checkpoint Notice [No. 9] 2019 here [PDF]: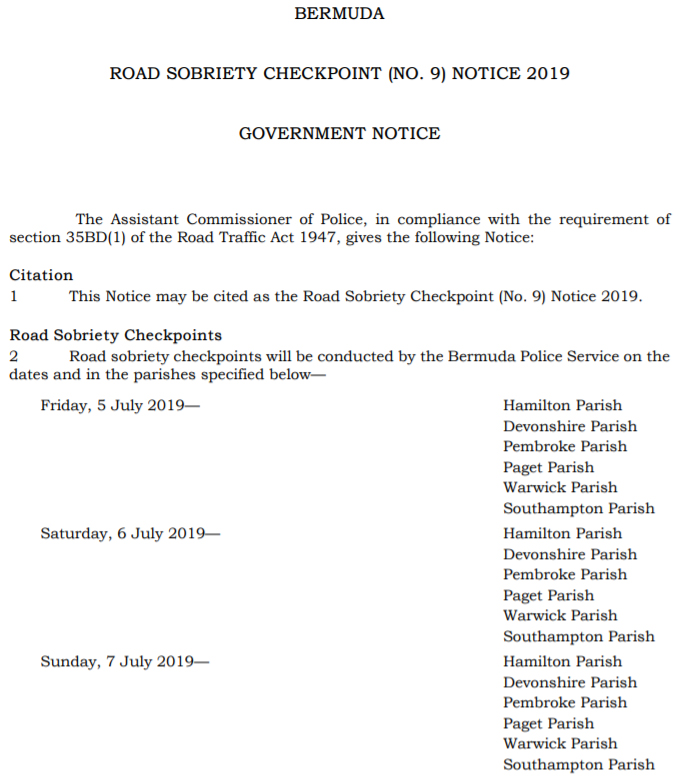 The official notices above have been republished from the relevant section on the official Government website. If you wish to view 'hard copies', the Department of Libraries & Archives prints them and you can visit the main library on Queen Street or the Government Archives in the Government Administration Building on Parliament Street to view them.
Read More About
Category: All