These days, Dr. Grant Farquhar is a genuine Bermuda rock star.
But when the Scottish-born psychiatrist, an inveterate rock climber for decades, came to Bermuda in 2002, he was told his sport did not exist here.
"When I first arrived in Bermuda I was told that the rock was unsuitable for rock climbing and that anyone who tried was insane and going to die," he says in the introduction to his book Climb De Rock. "This is an opinion I have come across before where there is rock but not yet rock climbing."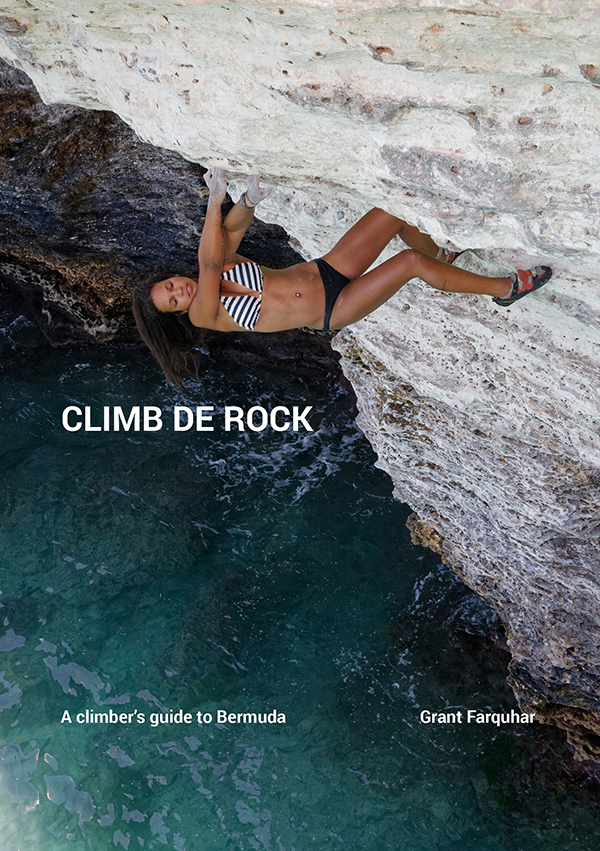 Undeterred by the naysayers, Dr. Farquhar went on to blaze a vertical trail in the sport of rock climbing on the island, mainly scaling Bermuda's waterfront sea cliffs.
Today, he is considered something of a one-man go-to resource on the subject.
He maintains a website on the Bermuda climbing routes he has identified and ascended; he has introduced numerous other local residents to the sport; and he even incorporates climbing therapy into his psychiatric practice.
And earlier this year, he published Climb de Rock, a good-humoured 208-page distillation of his can-and-must-do approach to rock climbing in Bermuda, as well as a practical field guide to the sport for local and visiting climbers.
Profusely illustrated with colour photographs and featuring maps throughout, the book details all of the routes Dr. Farquhar has determined are worth climbing in Bermuda [among his own favourite climbing spots are the sea cliffs at Admiralty Park in Pembroke and Great Head in St. David's].
He also provides comprehensive information on route locations, access, equipment, safety precautions, and potential hazards.
Dr. Farquhar also includes historical background material on the climbing spots he has pin-pointed as well as, he says jokingly, "the low-down on topics such as sharks and après-climb locations."
His sense of humour notwithstanding, Dr. Farquhar reiterates a very serious point throughout the book: rock climbing is not for amateurs.
"This is not a climbing gym: climb at your own risk," he says. "Rock climbing is inherently dangerous. Even when doing nothing wrong, you can be killed or injured."
He urges those climbers without either the experience or advanced rigging skills to avoid the more remote climbing routes included in the book.
Climb De Rock is available at the Bermuda Bookstore and The Bookmart at Brown & Co.

Read More About
Category: All, Entertainment