They say dancing is like dreaming with your feet.
And for those who would like to join in the dream but who either lack the training or feel their moves are rusty, the new Vision School of Dance will soon be offering lessons for everything from ballet to hip hop to jazz.
Located on the upper floor of the TreeCon Building on Cemetery Road, the opening of the new dance studio will mark the fulfillment of personal and professional goal for founder Angelina Hayward Simas.
Ms Hayward-Simas has been a dance instructor for the past 16 years.
She began her training at the age of three at the Jackson School of Dance and continued with lessons there until her senior year in high school.
Vision School of Dance founder Angelina Hayward-Simas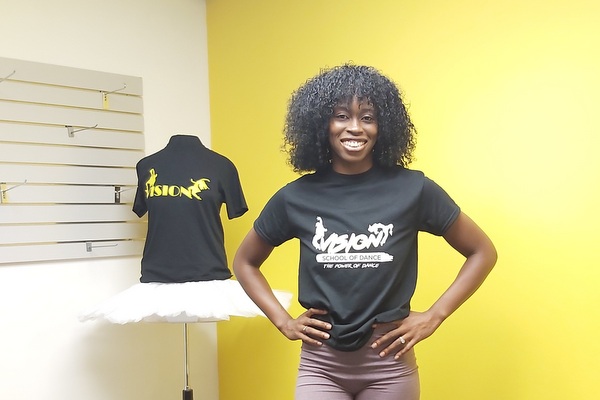 After attending the University of the Arts in Philadelphia, Ms Hayward-Simas returned to the Jackson School, only now as an instructor instead of a student.
When the Vision Dance School officially opens its doors on September 16, she will for the first time be dancing to her own beat in professional terms,
"Vision School of Dance will be accepting male and female students from age two years to adults," said a spokesperson. "Needless to say Ms Hayward-Simas is very excited to start a new journey in her life and can't wait to share her passion and creativity with beginner and advanced students alike.
The spokesperson predicted a bright future for the new dance school, saying plans are already in place for students to perform in events island-wide
"And Vision's first annual dance recital will be held in March next year," said the school spokesperson. "We already have a name for it — 2020 VISION."
Ms Hayward-Simas is also arranging to take her junior and company dancers abroad to perform at some of America's most popular family parks
"In the future she knows that her dancers will also be able to compete at international dance competitions," said the spokesperson.
Vision School of Dance will be teaching dance styles including ballet, funk tap, jazz, beginner movement, combo classes, hip hop, jazz fusion, pointe, boys hip hop, afro beat, dancehall and adult classes.
Classes will be held seven days a week.
Aside from Ms Hayward-Simas, the Pembroke school will have four other choreographers on its staff.
Two of the dance instructors, Taye Zino Trott and Reza Suhartono, joined Ms Hayward-Simas during a summer programme she ran prior to opening the school.
"They both choreographed dances that bought the house down when they were performed," said the spokesperson.
For further information please email dancevision@yahoo.com or call 705-0206. A website will be launched soon but in the meantime you can follow Vision School of Dance on Facebook and on Instagram under vision_bda.

Read More About