Damien Johnson, of London's Ballet Black, arrived Sunday night and was hard at work yesterday, teaching ballet to the dancers of this year's Bermuda Civic Ballet production, ETUDES.
A spokesperson said, "His broad smile said it all: he is delighted to be back in Bermuda, having first had a brief visit during this year's Bermuda International Festival of the Arts, when Ballet Black's performances received rapturous receptions. Our heat and humidity did not seem to bother him as he put the dancers through their paces at the Pembroke Sunday School.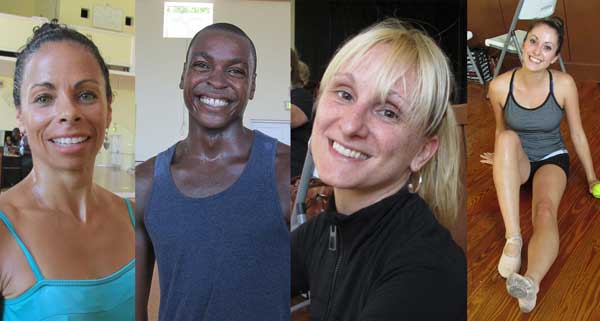 "In the front of his class was Bermuda's own favourite ballerina, Sophia Cannonier, as gorgeous and elegant as ever. Coincidentally both Sophia and Damien were in the past members of the acclaimed Dance Theatre of Harlem, though not at the same time.
"In the modern dance area, Brian Flynn has now returned to the US and his colleague from RIOULT, New York, has taken over. She is Anastasia [Stacey] Soroczynski, and she, too, loves her summers in Bermuda with the Civic.
"As ETUDES takes shape, more pieces have been added. Both Nikia Manders and Alexis Richens are choreographing numbers for the show. Nikia has choreographed previously for Civic, but Alexis, who has danced in numerous shows, is producing her first piece, a modern jazz number.
"ETUDES [Summer Selections 2014] will be at the Earl Cameron Theatre, City Hall, on August 8 and 9, 8:00 pm. Tickets now on sale: $40 for adults; $30 for Seniors and $20 for Students under 18. Tickets are available from ptix.bm,and at City Hall Box Office from Aug. 4, 12-2 pm."
Read More About
Category: All, Entertainment