The City of Hamilton is advising "City restaurants and businesses that currently use the wheelie bins provided by the City, that all bins must be secured inside buildings or storage areas immediately after the last refuse collection before Hurricane Humberto's anticipated arrival."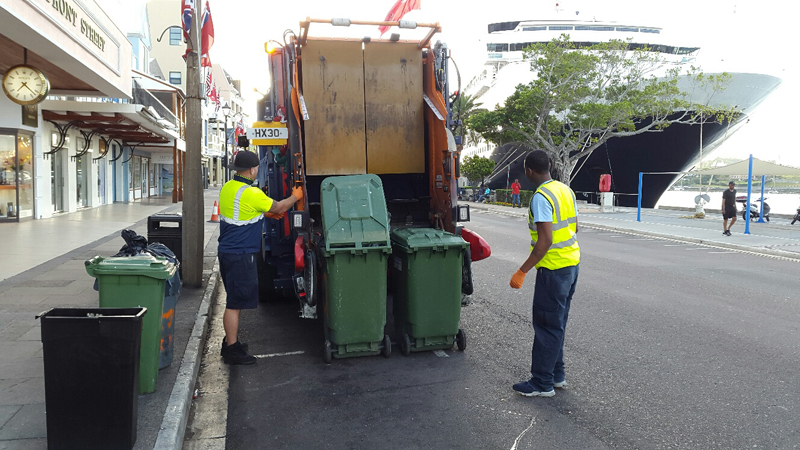 City Chief Operating Officer, Dwayne Caines, added, "Hurricane Humberto's closest point of approach to Bermuda at this time is scheduled for 10pm on Wednesday night when it will be approximately 78 nautical miles to our northwest [subject to change].
"In preparedness for the storm, the City's last refuse collection before Humberto's arrival will be during the morning hours; nothing will be collected after 12:00pm [noon] on Wednesday. After this time, all bins must be taken off the City sidewalks and secured inside for safety reasons.
"Refuse collection will only resume once the storm has passed and it is deemed safe to do so by the EMO authorities. Nothing must be left on any sidewalk or in any street that could possibly become a projectile during gale or hurricane force winds."
"The administration offices of the City will be closing at 12:00pm on Wednesday," the City added.
"The City reminds restaurants and businesses that wheelie bins must not remain on sidewalks outside of regularly scheduled refuse collection. Bins must be stored away from the sidewalks so as to not impede pedestrian traffic and the sweeping of the sidewalks. Storing the bins can also increase their longevity. Any damaged bins with gaping holes or broken lids must be replaced by the owners. Replacement bins can be ordered by emailing lsmith@cityhall.bm..
"The City urges all those businesses that have not yet signed up for a wheelie bin to complete the application form to receive their first bin, free of charge."
You can view our live updates on Hurricane Humberto here, and all our coverage of Hurricane Humberto here.
Read More About