From learning about boat mechanics and repairs to discovering the many roles involved with the Department of Marine and Ports, young Bermudians completing the Endeavour Maritime Career Springboard Programme receive firsthand experience about maritime career pathways.
Now running with its third year of cohorts, the seven-week training programme is offered in partnership with the Bermuda College Division of Professional and Career Education. This year's programme has brought together nine Bermudians ages 16 through 35 years old that share a common interest to pursue a maritime career.
A key goal of the programme is to increase exposure to maritime career pathways for youth interested in working in the maritime industry. This is achieved through a series of interactive site visits and career days at marine businesses and organisations across the island.
Photo courtesy of Matthew Stephens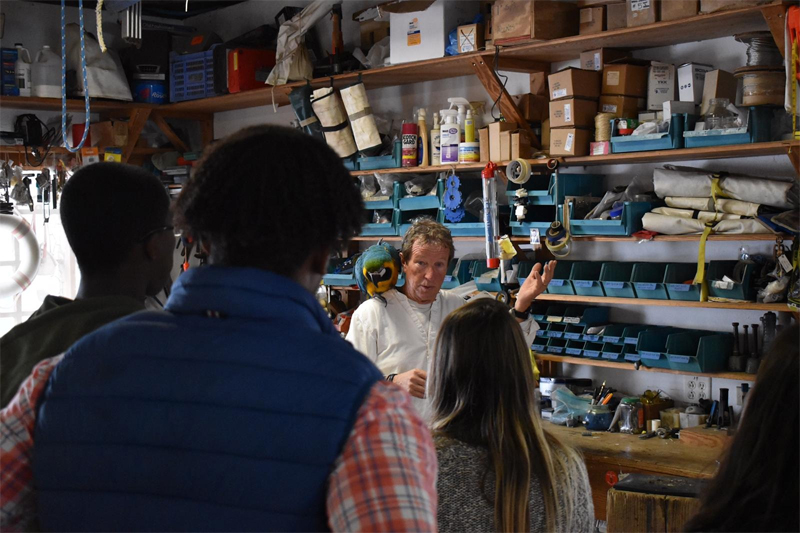 One of the businesses that welcomed participants to learn more about the maritime industry was Ocean Sails in St George's where Steve and Suzanne Hollis have been making and repairing sails, rigging, and making custom canvas and upholstery for over 35 years. Along with their extensive knowledge in sail making and repairs, the Hollis' have built up contacts and broad understanding of the maritime industry both here and abroad.
"Anyone willing to apply themselves to this programme is going to get so much out of it, it really is an incredible experience for young people in Bermuda to have this opportunity," said Mr Hollis.
The couple said they are thrilled to have Endeavour Community Sailing set up in St George's and to be able to offer their support. Endeavour's East Fort is located at the T.S. Admiral Somers building, home of the Bermuda Sea Cadet Corps, right next door to the sail loft.
"It's brought life back to the harbour with everyone thoroughly enjoying what they are doing," said Mr Hollis. "What I see Endeavour doing is giving everyone the opportunity to get out there and learn what it's like to harness the wind, propel a boat forward and to have fun doing it."
Photo courtesy of Matthew Stephens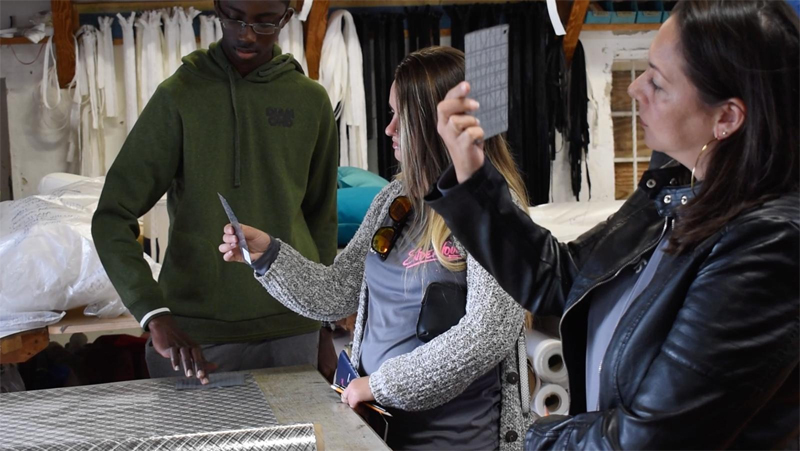 While many youth are introduced to sailing through Endeavour's programmes, the Endeavour Maritime Career Springboard Programme enables young Bermudians to explore the many career avenues in the maritime industry and provides them with opportunities to achieve internationally recognised qualifications and skills to enter a maritime career.
During the site visit, Mr Hollis demonstrates the services he provides and explains the different materials and machinery used to create the custom canvas and upholstery. He also engages with the young Bermudians about their interests and helps them see what opportunities are available both locally and internationally.
One of the participants who completed the 2019 Springboard programme is now working as a sail apprentice at the shop.
Ethan Edmunds, who is only 17, is also an instructor at the Royal Hamilton Amateur Dinghy Club, in between his own sailing training.
Mr Edmunds had his sights set on becoming an instructor and working at Ocean Sails, and the Springboard programme helped him reach those goals.
Photo courtesy of Ocean Sails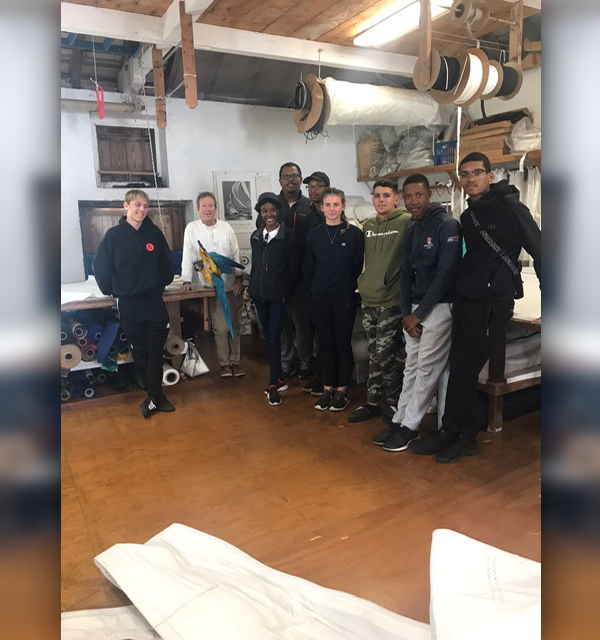 "I already had a lot of experience on the water, but there were some things that I didn't realize would be helpful, like the RYA Marine Radio SRC/VHF course, that were incredibly invaluable," said Mr Edmunds. "There were small things that I thought I knew that I realized through this that I needed to be at a much higher level and that I needed to improve. It's a really fun course."
Mr Hollis added: "This course gives youth participants a sense of responsibility and achievement with a goal at the end with many possibilities available."
Tristan Loescher, Endeavour Programme Manager commented: "We're thankful to Endeavour's partners for their invaluable support. They inspire curiosity and spark interest with stories of how they started out in the maritime industry and what it has taken to get where they are, offering candid advice and necessary steps for young people participating in the programme to be successful."
Tia Tankard, Endeavour Club Development Officer and Education Assistant added: "Special thanks to the Bermuda College Professional and Career Education Division and our maritime partners for their amazing support and encouraging the Springboard participants to work hard toward achieving their goals. We're grateful to Ocean Sails, Spar Yard Marine Solutions Ltd., Spirit of Bermuda, Bermuda Police Services – marine unit, Waterstart, the Department of Marine & Ports, BIOS, Bermuda Maritime Operations Centre and the British Royal Navy – HMS Medway."
For more information about the Endeavour Maritime Career Springboard Programme, visit www.endeavour.bm.

Read More About