St. George Tucker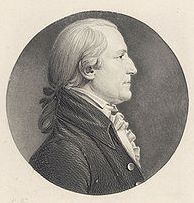 Although lauded in American history as one of their most influential jurists, St. George Tucker [1752 – 1827] was actually a born Bermudian.
Born in his namesake St. Georges in Bermuda on July 10, 1752 to Colonel Henry Tucker, a prominent merchant, and Anne Tucker [nee Butterfield] who was the daughter of Bermuda's Chief Justice Nathaniel Butterefield. He was one of six children, with his siblings including US Senator and Congressman Dr. Thomas Tudor Tucker.
He resided on the island until he was nineteen, when he sailed to Virginia to study law at the College of William and Mary in 1772.
He was approved for the bar in 1774, and settled permanently in Williamsburg working as a lawyer.
He served in the Virginia militia and cavalry in the American Revolutionary War, rising to the rank of Colonel.
The Continental Congress banned trade with colonies that remained loyal to Britain, which included Bermuda. Mr. Tucker's father, Colonel Henry Tucker, traveled to Philadelphia to argue for Bermuda's exemption.
Reports say he received it by negotiating with Benjamin Franklin the capture of gunpowder. Two American vessels carried away 100 barrels from the Royal Powder Magazine in Bermuda the night of August 14, 1775. Historians say that St. George Tucker hinted that he helped load the gunpowder onto the ships.
He married Frances Randolph, a widowed mother of three, in 1778. She died ten years later during childbirth.
Mr. Tucker married again in 1791, this time to Lelia Skipwith Carter who was also a widow with two children. They had three children together, all of whom died in infancy.
Mr. Tucker served as judge on three different courts in Virginia: the General Court [1788–1804], the Virginia Court of Appeals [1804–1811], and the federal district court for the eastern district of Virginia [1813–1825].
He died in November 1827 at age 75 after a long illness.
Known for his numerous written works, his major ones include:
Reflections on the Policy and Necessity of Encouraging the Commerce of the Citizens of the United States of America, and of Granting Them Exclusive Privileges of Trade, as Columbus (1785)
The Knight and Friars. An Historical Tale; After the Manner of John Gilpin (1786)
Liberty, a Poem; on the Independence of America (1788)
Cautionary Hints to Congress, Respecting the Sale of Western Lands, Belonging to the United States, as Columbus (1795)
A Letter, to the Rev. Jedediah Morse, A.M., Author of the "American Universal Geography" (1795)
A Dissertation on Slavery: With a Proposal for the Gradual Abolition of It, in the State of Virginia (1796)
The Probationary Odes of Jonathan Pindar, esq. a Cousin of Peter's, and Candidate for the Post of Poet Laureat to the C.U.S. In Two Parts (1796)
Remarks on the Treaty of Amity, Navigation, and Commerce, Concluded between Lord Grenville and Mr. Jay, on the Part of Great Britain and the United States, Respectively … , as Columbus (1796)
Examination of the Question, "How far the Common Law of England is the Law of the Federal Government of the United States?" (1802)
Reflections on the Cession of Louisiana to the United States, as Sylvestris (1803)
The Crisis: An Appeal to a Candid World, on the War Entered into by the United States of America, Against Great-Britain and Her Dependencies … , as Columbus (1817)
The Poems of St. George Tucker of Williamsburg, Virginia, 1752-1827 (1977)