Troy Douglas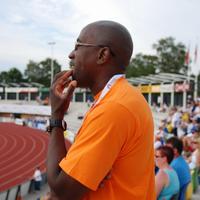 One of the best sprinters in Bermuda's history, Troy Douglas started his career representing Bermuda, and later switched to the Netherlands in 1998.
Born November 30, 1962 in Bermuda, his first international competition was the Carifta Games when he was 16 years old, and he finished his career sprinting for the Netherlands at the 2004 Athens Olympics.
While competing for Bermuda, he finished second at the 1995 IAAF World Indoor Championships in the 200 metres event, and participated at the 1988, 1992 and 1996 Summer Olympics.
While under the Bermuda flag, he reached the semi finals on the 200 metres in the 1996 Olympics, and the semi finals in the 400 metres in 1992 and 1996.
He made a total of four Olympic appearances as he competed for the Netherlands at the 2004 Games.
After switching nationality to the Netherlands, he won their National Title in the 60 metres twice; 1999 [6.7 seconds] and 2001 [6.75 seconds].
He went on to set the 60 metres World Indoor Masters Record in 2003 [6.78 seconds].
In the World Masters all time rankings, he ranks in the top 6 behind such notable names as Carl Lewis and Linford Christie.
A blemish on his otherwise stellar record, Mr. Douglas withdrew from the 1999 World Championships, after testing positive for the banned anabolic steroid nandrolone, charges which he disputed.
Together with Dutch teammates Patrick van Balkom, Timothy Beck and Caimin Douglas he won a bronze medal in 4 x 100 metres relay at the 2003 World Championships in Athletics. They also participated with the same team in the 2004 Summer Olympics, but were eliminated in the series due to a mistake in the changing area.
Mr. Douglas now resides in the Netherlands where he works as a coach and motivational speaker, but is still involved in local track and field.
He works for the charity organization 'Right to Play', and has traveled to Africa as an ambassador for the group.
He is part of the golden generation of Bermudian track and field, normally mentioned alongside high jumper Nicky Saunders and triple jumper Brian Wellman. Sometimes called the 'Three Musketeers' they competed in the same time frame, all placing well in numerous events.