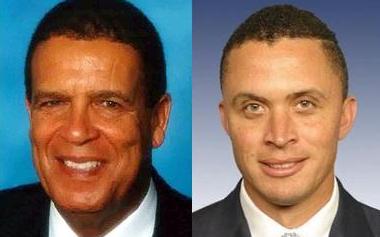 Former Bermuda Premier Sir John Swan pulled no punches when questioning former American congressman Harold Ford.
Mr. Ford was the keynote speaker at the Bermuda International Business Association [BIBA] Annual General Meeting held today at the Fairmont Hamilton Princess.
The former Congressman and NBC and MSNBC television news analyst has already come under fire for speaking in Bermuda.
Sir John, himself an extremely successful businessman, began by inquiring as to what caused the heightened interest in Bermuda from the American government. He pointed out that Bermuda complied with regulations, while other countries have been accused of improprieties, yet Bermuda seemed to attract the attention.
There was an audible stir from the audience when Sir John moved on to point out that Bermuda was the first country to give aid to the United States in 1610, and gave aid again on Bases Agreement in 1941.
He then asked "Why pick on small countries like Bermuda?"
Sir John summarized with saying he had "real difficulty with the moral principal of this issue" and said "as a great supporter of the country I feel let down." Applause could be heard from the audience after Sir John finished.
Mr. Ford showed his political prowess by replying, while not actually addressing any of Sir John's points.
The ex-Congressman stated he was not there as an official Government Representative, and that he doesn't speak for the Obama Administration, Senate, or Congress. Mr. Ford then completed the non-answer by saying he hoped that someone from the U.S. Goverment would come to Bermuda to speak to them officially.
The NYDailyNews also noted Mr. Ford's level of avoidance:
Business leaders and officials who paid up to $100 a ticket for Ford's 23-minute speech at the Hamilton Princess Hotel came away thinking Ford is eying a return to politics, too. That's because he ducked questions on the Obama administration's drive to stop U.S. companies from using Bermuda as a tax haven.

"It was like he was walking around on eggshells, like he didn't want to answer anything because he didn't want to get battered back home in the States," said Mark Jennings, deputy manager at Lines Overseas Management Ltd., an asset management firm.

When quizzed Thursday on the tax haven issue by former Bermuda Premier Sir John Swan, Ford wouldn't give a direct answer.

Ford spokesman Davidson Goldin said the ex-congressman wasn't afraid of saying something that would come back to bite him – he just was mindful that he is a private citizen and didn't want to create an international incident.
Prior to the AGM meeting with BIBA, Mr. Ford had breakfasted with a group of students. The Bermuda International Business Association had previously held a student essay competition, and the winners were invited to meet with Mr. Ford.
Students were invited to submit a 500-word article answering the question, 'What impact can Bermuda's youth have on Bermuda's international business community?'.
Winners were Tania Gray, Kathleen Watts, Hannah Schaefer, Rebecca McLauchlan, Berkeley Brown and Nijmeh Marouf from Bermuda High School for Girls and Olivia Joell and Jennifer Ross from Berkeley Institute.
Read More About