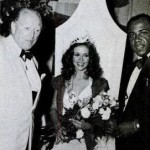 Take a step back in history, and watch a video of ten Miss Bermuda winners from the 1970′s.
Video includes; 1970 Margaret Hill, 1971 Rene Furbert, 1972 Helen Brown, 1973 Judy Richards, 1974 Joyce de Rosa, 1975 Donna Wright, 1976 Vivienne Hollis, 1977 Connie Frith, 1978 Madeleine Joell and 1979 Gina Swainson
Our video starts with Margaret Hill who competed in the 1970 Universe winning the Miss Photogenic award, and ends with Gina Swainson who competed in the 1979 Universe placing 1st runner up and going onto win the 1979 Miss World.
As they were extracted from video footage 30-40 years old, the clips are very low quality for which we do apologize!
For more on Miss Bermuda winners over the years see here. Did you or anyone you know win the Miss Bermuda contest? If you can help in anyway with providing a photo/information please contact us.
Read More About
Category: All, History, News, Style & Beauty, Videos