The 16th Annual Bermuda International Sand Sculpture Competition was held today [Sept 4] at Horseshoe Bay Beach. Prizes for amateur sand sculptors were $1,000 for first place, $500 for second place and $250 for third place.Team Sandtastic, a Florida-based group of expert sculpters, created a Bermuda themed main display using 100 tons of Bermuda's pink sand.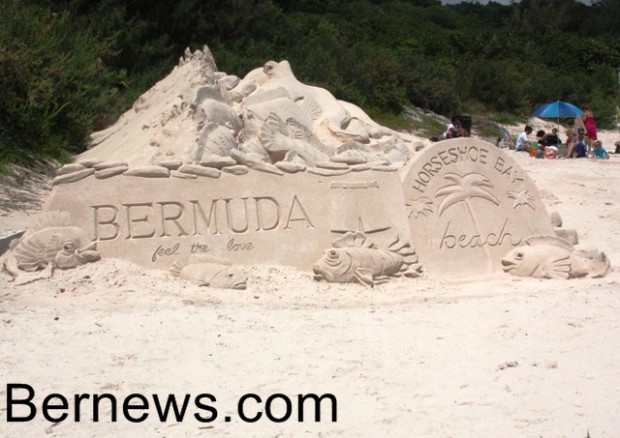 Hundreds of residents and visitors went to Horseshoe Beach to either see or exercise their creative talents, with forty-two sand sculptures specially created that afternoon. Participating in this display of beach creativity were families, pre-teens, teenagers, couples, amateurs, professionals, and tourists who just happened to be on the beach that day.
And what a lucky day for the creative tourist couple who won the Overall Prize for Best Amateur sculpture.They were Ingrid Robaina from Venezuela, and John Kartsonas from Greece. The couple live in NY, were in Bermuda celebrating their first anniversary, and won the $1,000 top prize for their creation of a sand octopus. But they were doubly good because they had a double win. They also won the prize for the best entry by a visitor to Bermuda which saw them receive an all expenses paid weekend for two at Bermuda's Fairmont Hamilton Princess hotel. The couple said they loved Bermuda, and had been considering coming back for the 2010 Music Festival, and said winning $1,000 made that possibility much more likely.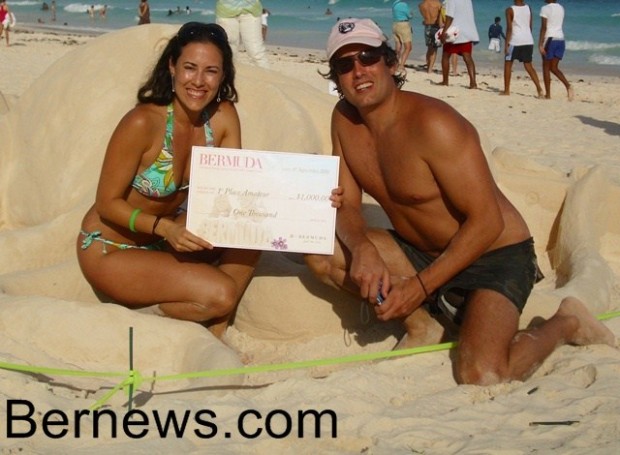 From 4:00pm until prize-giving at 5:30pm, hundreds of other people came simply to stroll and see. There were 42 different sculptures, with four entries by a four-man team of professional sand sculpturers; three entries by visitors, and thirty-five by residents.
Some of the other prize winners were teenagers Peter Cooper and Ban Sayers for their creation of a Castle; winners in the under twelve category were Kathyrn and Brandon O'Connor for "Squigworth"; and Capital G team for the company prize with "Life's a Picnic". Top prize winner for the professional class was Lawrence Hudson who took away $1,000.
Click to enlarge images:
Read More About