Gunmen rode through a neighbourhood and fired at two men riding on a bike this evening [Sept 20], according to an eyewitness. The incident is said to have occurred approximately two hours ago, at around 5:30pm.
The area resident says that it appears as though the two men were riding a motorcycle through the area, when the shooter[s], who were riding on a bike behind them, opened fire. The victims were struck, and subsequently crashed the bike into the wall of a residence.
Police are on the scene, and have sections of the neighbourhood taped off. The bike is shown below at the end of the road laying on the ground.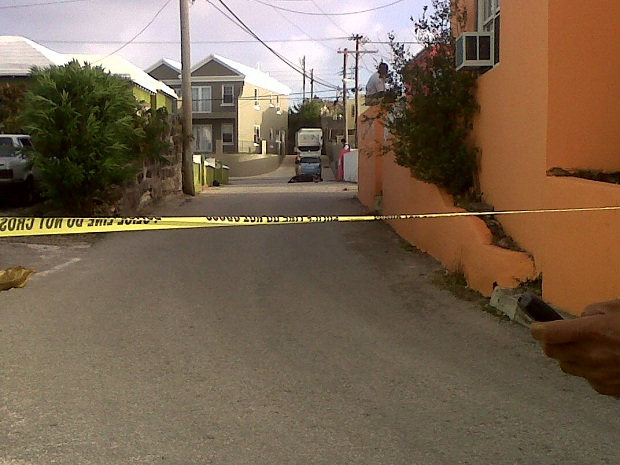 The eyewitness says that the two men got up and "ran away, well really more limped", leaving items behinds including a shoe and a helmet. He said it was obvious by the way the victims ran away they had been injured in some capacity, although he didn't know at the time if it was due to the bike accident or being shot.
He said they went into nearby foliage, and weren't seen again. It is unclear at this time how they got to the hospital. The bike was left laying on the ground, pictured below: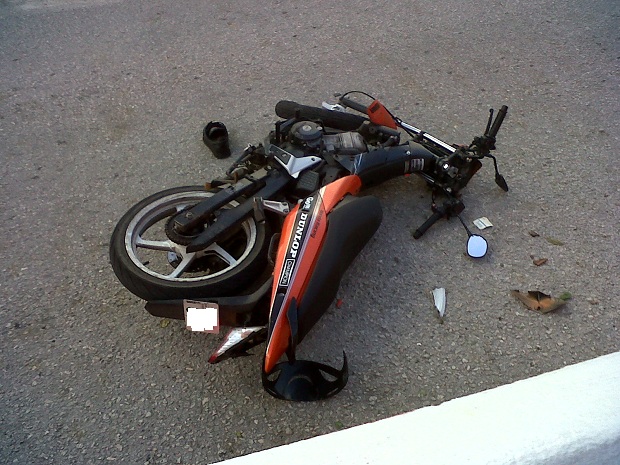 Police spokesman Dwayne Caines confirms there was a firearm incident, and that Police are actively investigating. Mr Caines gave no further details, stating that official updates information will be provided later on. Anyone with any information is asked to called the Serious Crime Unit on 299-8115 or the independent confidential Crime Stoppers Bermuda hotline on 1-800-8477.
Area residents are said, understandably, to be extremely displeased by this incident, especially occurring right after we came through Hurricane Igor. Explaining the neighbourhood had come together with everyone chipping in to assist each other, they said the community spirit was strong and this has marred the good feelings that many had.
[It should be noted that all information above is unofficial]
Update 10:25pm: Official information from the Police: "Around 5:40pm on Monday, Police responded to a confirmed firearm incident in the Friswells Road, Pembroke area. Two 22 year old men were injured and taken to King Edward VII Memorial Hospital for treatment. Their injuries are not life threatening. Police are appealing for any witnesses or anyone with any information to contact the Serious Crime Unit on 299-8115 or the independent confidential Crime Stoppers Bermuda hotline on 800-8477."
Read More About