This afternoon [Nov 1] Dame Jennifer Smith was sworn in at Government House, taking on the position of Minister of Education, which was previously held by Elvin James, who is no longer in Cabinet. Dame Jennifer had previously held the position of Deputy Speaker of the House, which she resigned in order to accept a Cabinet position.
Easily receiving the largest applause of all Cabinet Ministers, Dame Jennifer received a standing ovation when her name was called.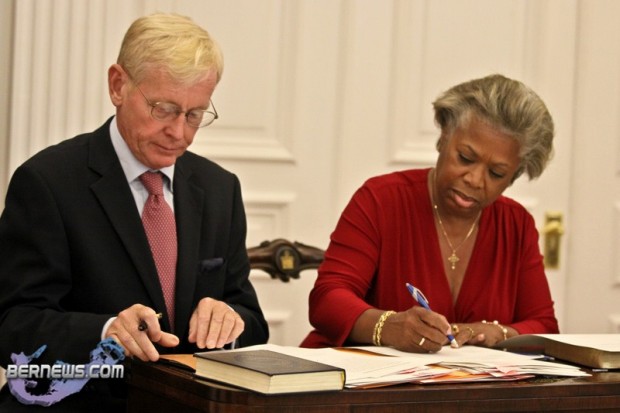 Dame Jennifer Meredith Smith earned her place in Bermuda's history as the first Progressive Labour Party [PLP] Premier, the first female Senator and the first female Deputy Speaker.
In addition, in 1972, Dame Jennifer became the youngest woman to run in a general election [1972] and in 1980, she became the youngest member of the Senate. She led the PLP to two general election victories on November 9, 1998 and July 24, 2003.
She was born in 1947 in Bermuda, and raised as a member of the African Methodist Episcopal church. She attended the Art Institute of Pittsburgh, and earned an Associate's degree in 1970. Upon returning to Bermuda, she began work as a political reporter and editor for the Bermuda Recorder newspaper
She elected to the House of Assembly of Bermuda representing St Georges in 1989, and was elected deputy party leader in 1994, and succeeded to the leadership two years later upon the death of L. Frederick Wade.
In 1998, when the PLP was elected she became Premier of Bermuda. This was notable on an international level, as it was one of the few instances that a female leader was succeeded by another female, as Dame Jennifer followed after Dame Pamela Gordon of the UBP.
This is the second time she has served in this role, as Dame Jennifer was the first PLP Education Minister. This is her first Cabinet position since resigning as Premier in 2003.
Below Dame Jennifer is sworn in:
You can view more videos/bios of the 2010 Cabinet appointees by clicking here.
Read More About