The youngest member serving in the Lower or Upper House, 31-year-old Senator David Burt was sworn in at Government House yesterday [Nov 1], becoming the Junior Minister for Finance, Environment, Planning and Infrastructure.
After attending Florida Air Academy, he studied at George Washington University in Washington D.C, obtaining a Bachelor of Business Administration, Double Major in Finance and Information Systems in 2001. He went on to complete a Master of Science in Information Systems, Concentration in Information Systems Development, which he obtained in 2003.
While in college he was Finance Chairman of the Student Association, President of Alpha Phi Alpha, Marketing Director of the Association of Caribbean Students, and Secretary of National Pan-Hellenic Council.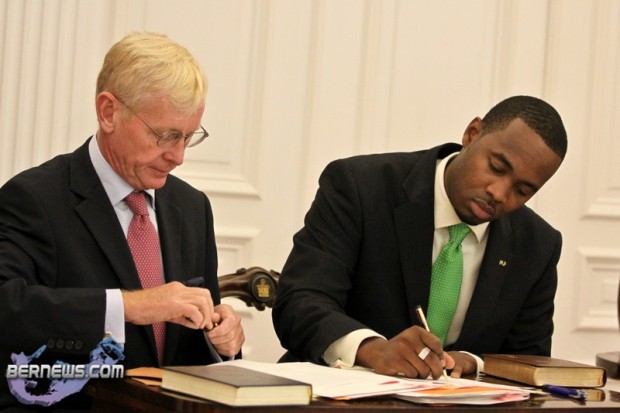 He served as the Chairman of the Progressive Labour Party from 2006 to 2009, has sat on the Executive Board of the Bermuda Chamber of Commerce since 2007, and has been a member of Bermuda Tourism Board since 2005.
Often touted as a future MP, Senator Burt is Majority shareholder of GMD Consulting Ltd.
Below Senator Burt is sworn in:
You can view more videos/bios of all the 2010 Cabinet and Senate appointees by clicking here.
Read More About