This afternoon [Nov 1] Michael Weeks was sworn in at Government House, taking on the position of Minister Without Portfolio, which was previously held by Minister Zane DeSilva. Mr Weeks, who is making his first entrance into Cabinet, represents Constituency #16 – Pembroke East Central.
He was born and raised in the Glebe Road area, and currently resides on St. John's Road, Pembroke. A "hands on" MP, Mr Weeks is seen quite often in the district he represents, walking the streets talking with his constituents.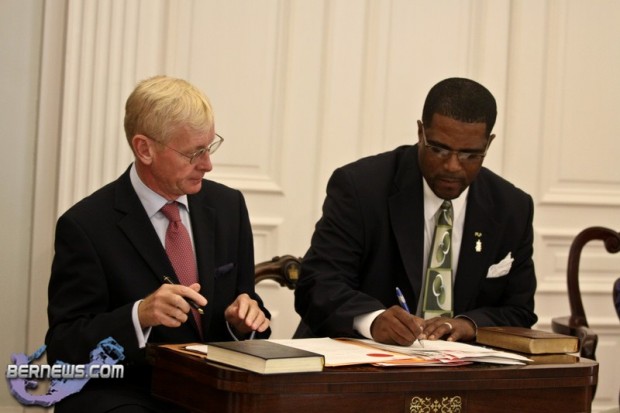 He was educated at Central School, The Berkeley Institute, Fryeburg Academy in Maine, and is a 1999 graduate of Howard University where he received his Bachelor's Degree in Business Administration.
Since receiving his college degree, Mr. Weeks has been employed in the private sector. He is currently the Vice President of the Western Stars Sports Club in Pembroke and is a member of the Berkeley Educational Society Management Committee.
Below Minister Weeks is sworn into Cabinet:
You can view more videos/bios of the 2010 Cabinet appointees by clicking here.
Read More About