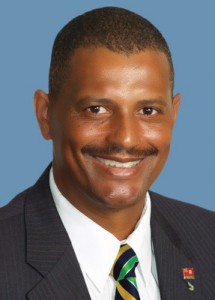 Speaking on the much discussed Uighur controversy, Leader of the Opposition Kim.Swan said "It is the final disappointment of the Uighur debacle to learn that former Premier Brown got nothing for Bermuda in his deal with the US Government. It says to us the Premier was either naive or just interested in rubbing shoulders with the high and mighty in the US Government."
The four men [Khaleel Mamut, Abdulla Abdulqadir, Salahidin Abdulahat, Ablikim Turahun] were released from the US detention centre at Guantanamo and resettled in Bermuda in July 2009. The Uighurs landed in Bermuda at around 6am on July 11, 2009 on a private jet.
The four men are part of a group of Chinese nationals handed over to American forces in Afghanistan, but found years ago not to be "enemy combatants" and cleared of any and all charges. They were not repatriated to China due to fears of their safety upon return.
Controversy erupted after Premier Dr. Ewart Brown's decision to accept the Uighurs without first consulting Cabinet or Government House. There were numerous protests locally, and the British Government expressed its displeasure, stating that due to Bermuda's status as an overseas territory they should have been consulted on the move. Dr. Brown survived a vote of "no confidence" after Parliament rejected the resolution in a 22-11 vote after a marathon 14 hour debate, which went through the night.
Mr Swan went on to say that "Clearly, Dr. Brown was not working for Bermuda when he agreed to take the detainees off US hands. This is the only conclusion to be drawn from the US Government unequivocal statement this week that there was no quid pro quo for the Uighurs."
"As Premier of Bermuda, we expected that Dr. Brown would have at least tried to exercise some level of statecraft to work a deal that could benefit the island. Not so. This appears now to have been a vanity project and nothing more."
"Yet it did serious damage to the governance of Bermuda. In his haste to please his American friends, Dr. Brown showed disregard for his Cabinet colleagues, Bermuda's Parliament, the Governor, the United Kingdom Government, Bermuda's Constitition and, ultimately, the people of Bermuda."
"That his government supported his actions in a Parliamentary vote simply doubled the damage, and established a political precedent for rule-breaking by Bermuda's leaders."
Read More About