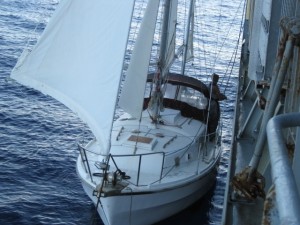 The search by the US Coast Guard for a 31-foot yacht crewed by two Bermudians and missing on a voyage from the Dominican Republic to Bermuda has been suspended.
Local officials confirm that as of yesterday evening [Dec 24], the Coast Guard's C130 aircraft is no longer a part of that search.
However, merchant and other vessels travelling  southwest of Bermuda are being asked to keep a lookout for the missing ketch during their travels.
The yacht "Carefree IV" had been scheduled to arrive in Bermuda after departing the Dominican Republic on December 1. It has not been seen since December 18 when a passing merchant ship provided the  UK registered boat with emergency supplies.
Citing a number of reasons for concern including the condition of the vessel, the apparent lack of experience of the crew and their lack of an Emergency Position Indicating Radio Beacon, Bermuda Harbour Radio's Rescue Coordination Centre asked the US Coast Guard to assist in locating the vessel earlier this week.
On Thursday and Friday, a US Coast Guard C-130 aircraft stationed at Elizabeth City searched more than 10,000 square miles of the Atlantic near the last reported location of the "Carefree IV", some 210 miles southwest of Bermuda. It did not turn up any trace of the missing vessel.
Officials have confirmed the two aboard are Bermudians, however have declined to officially name them as of yet.
This latest marine incident comes on the heels of three Bermudians being detained by the US Coast Guard earlier this month, having departed the Dominican Republic with millions of dollars worth of marijuana.
Read More About