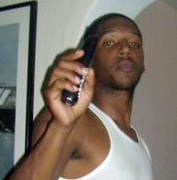 Ronniko Burchall and his half brother Leroy Nathaniel Symons, both currently on remand, appeared at this morning's [Feb 1] monthly arraignment session in the Supreme Court.
Both men, who are in the early 20s, were said to involved in the murder of Shane Minors [pictured] in 2009. Mr Minors was found dead in the entrance of his home in South Terrace, Friswell's Hill, Pembroke on December 17, 2009. The Police say that Mr. Minors received the fatal gunshot wounds sometime around 1am.
This morning both had the charges formally read to them. Ronniko Burchall of Pembroke and Leroy Symons of Warwick were together charged with murdering Shane Minors on 17 December 2009. Ronniko Burchall was charged separately with using a firearm to commit that murder on 17 December 2010.
During a previous court appearance, Mr. Burchall had remained silent when faced with the charges, refusing to enter a verbal plea.
Both men have pleaded not guilty and a trial date was set for June 13, 2011. The trial will be a joint trial.
Read More About
Category: All, Court Reports, Crime, News