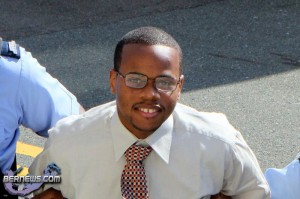 The murder trial of Ronniko Burchall, 22, and his half brother Leroy Nathaniel Symons, 20, began yesterday [June 16] in Supreme Court.
Both men are accused of being involved in the murder of Shane Minors in 2009. Mr Minors was found dead in the entrance of his home in South Terrace, Friswell's Hill, Pembroke on December 17, 2009.
Mr Burchall is accused of being the actual shooter, while Mr Symons is alleged to have provided assistance. They are both charged with murder, and Mr Burchall was charged separately with using a firearm to commit that offence.
Yesterday the Prosecutor said that Mr Minors was not part of a gang, however his brother Shaki Minors was affiliated with 42nd, and it is believed that is why he was targeted. The defendants are said to be affiliated with Parkside, and the Court heard that the murder was part of the on going rivalry between Parkside and 42nd.
It is alleged that the shooting of Mr Minors was in retaliation for the murder of 22-year-old Gary 'Fingas' Cann, which occurred only two days prior. Mr Cann and the brothers were known to each other, and said to be good friends.
The Prosecutor said that during a Police interview Mr Symons admitted showing his brother how to use the gun, and told him how to access the back area of the Minor's home.
Both men deny the murder, and the case continues…
Read More About
Category: All, Court Reports, Crime, News