[Update July 6th, 6:15pm: Ronniko Burchall and his half-brother Leroy Symons were today found not guilty of all charges. The brothers hugged after the verdict, and some family members cried out in joy.]
Before the verdict came back, the jury has sent a question to the judge, and requested to view video footage and listen to audio that had been played during the trial. Further details to follow]
Update 7:20pm: Mr Symons was lead away in custody due to unrelated matters, and Mr Burchall left in a car after walking out of court a free man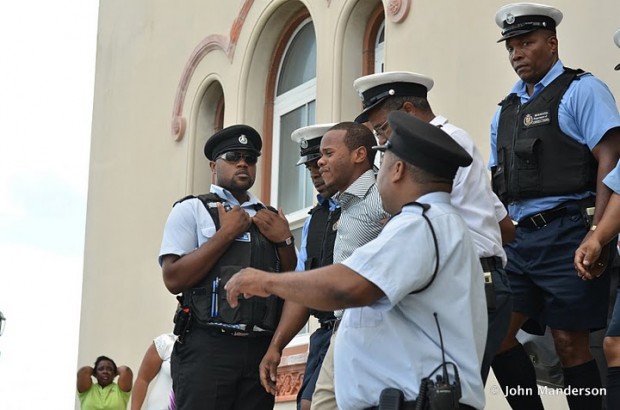 Update 8:45pm: Statement from Detective Nick Pedro after the verdict:
Update 9:25pm: The father of Leroy Symons, who remains in custody, told ZBM:  "I feel blessed. I really feel for the Minors family, but at the time I can't help but be happy for both defendants. Ronniko is not my blood son, but I watched him grow up, I helped take care of him in his younger years. Both of them, I feel happy for them." Mr Symons also said that he thinks its best for his son Leroy to "start over somewhere else." Leroy Symons is pictured below being lead away after the verdict:
—————————————————————————————————————————————————-
The murder trial of two brothers who stand accused of murdering Shane Minors is coming to its conclusion in the Supreme Court, and the jury is expected to start deliberating tomorrow [July 6].
The trial of Ronniko Burchall, 22, and his half-brother Leroy Symons, 21, began on June 16th. Both men are accused of being involved in the murder of Shane Minors, who was found dead in the entrance of his home in South Terrace, Friswell's Hill, Pembroke on December 17, 2009. He had been shot twice and died within minutes.
Mr Burchall [below left] is alleged to be the shooter, while Mr Symons [below right] is alleged to have provided assistance. They are both charged with murder, and Mr Burchall alone is charged with using a firearm.
Shade Subair, lawyer for Leroy Symons, finished her closing arguments at 12:01pm today. In her arguments she sought to cast strong doubt on the veracity and honesty of the second accused, his half-brother Ronniko Burchall.
Justice Carlyle Greaves began his directions to the jury at 12:04pm and it is likely that he will go on with further directions and summing to about 4:30pm today and completion tomorrrow morning. The eight woman four man jury will most likely begin deliberations sometime Wednesday morning.
At the beginning of the trial, the Prosecutor said that the murder victim was not part of a gang, however his brother Shaki Minors was alleged to be affiliated with 42nd, and it is believed that his why he was targeted. The brothers are said to be affiliated with Parkside. It is alleged that the shooting of Mr Minors was in retaliation for the murder of 22-year-old Gary 'Fingas' Cann, which occurred only two days prior in 2009.
Mr Symons participated in police interviews last year during which he told the police his brother killed Mr Minors. He says he told the police as word was out on the streets that Mr Burchall had killed Mr Minors, and that people had pulled a gun on his [Mr Symons] child's mother due to it, and that his family was at risk over his "foolishness". He also said that prior to the murder his brother showed him a gun. The jury watched footage from the police interviews during the trial.
Older brother Ronniko Burchall claimed his brother was lying in an attempt to implicate him in the murder. Saying "Ray Charles could see it," Mr Burchall told the jury his brother was trying to frame him. The brothers mother, 41-year-old Onika Burchall, testified she heard her son Leroy confess to the murder last year.
The brothers deny the charges.
Read More About
Category: All, Court Reports, Crime, News