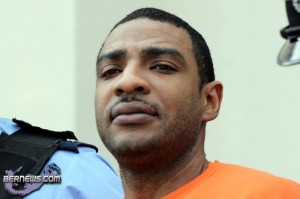 In the process of sentencing confessed murderer Jermaine Pearman today [Jan 31], Justice Carlisle Greaves referred to him as  "controlling", a "relentless abuser" and a "dangerous man."
Justice Greaves reviewed points of law and points of contention between Mr Pearman's defence attorneys and the Crown prosecutors. In his lengthy judgment, Justice Greaves, made several particular judicial observations.
On several occasions, in the course of giving the reasons underlying his sentencing, Justice Greaves said that on the evidence presented, he had found Mr Pearman to be a "relentless" and "controlling" person.
That he had found him a "relentless abuser" of the victim. That he found that the victim had not inflicted any injury on him.
Justice Greaves said he found the defendant to be a "dangerous man" who warranted substantial punishment, and that women must be protected from him.
Sentencing him to serve a life sentence that is to be a minimum of twenty-five years of imprisonment before he can be considered eligible for parole, Justice Greaves said that Mr Pearman should not be released without substantive remediation having taken place.
Earlier this week Mr Pearman, 37, pleaded guilty to killing 23-year-old  Shakeya DeRoza but denied a charge of premeditation. Mr Pearman attacked Ms DeRoza at her Paynter Lane home on July 10, 2009, using a knife to slash her throat and inflict wounds to her heart.
Ms DeRoza staggered out of the house following the brutal attack, but collapsed and died on Middle Road. Police arrested Mr Pearman later that same afternoon following a stand-off on the Railway Trail in Somerset.
Mr Pearman has a criminal history dating back over 15 years, including prior convictions for assault with intent to commit bodily harm, unlawful carnal knowledge of a teenager and drug possession. He will be eligible to be considered for parole in 2036, when Mr Pearman will be 62 years old.
Read More About
Category: All, Court Reports, Crime, News