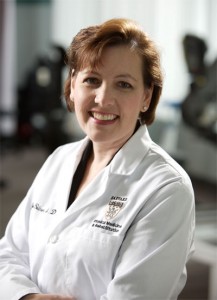 At Bermuda's third annnual Cancer Forum on March 12, Harvard's Dr. Julie K. Silver [pictured] will deliver a powerful message that focuses on healthy lifestyle choices and healing, as well as personal and professional success.
Dr. Silver endeavours to empower her audience and give them the tools needed to be resilient and happy.
Bermuda Cancer and Health Centre is honoured that Dr. Silver has agreed to be the guest speaker at this year's Cancer Forum — an opportunity to provide members of the community, especially cancer patients and their families with a "full picture" of the services available on island for detection, diagnosis, treatment, care, and support. Over 15 organisations will be on hand to exhibit their services/products and demonstrate how we all work together to support the cancer journey.
Julie Silver, MD is an assistant professor at Harvard Medical School in the Department of Physical Medicine and Rehabilitation. Dr. Silver is an award-winning author and has edited/written more than 20 books that focus on rehabilitation medicine and physical recovery. She has a special interest in oncology rehabilitation and perhaps her best-known book is "After Cancer Treatment: Heal Faster, Better, Stronger."
"After Cancer Treatment" was the first book to offer a step-by-step plan for physical healing from the devastation of cancer treatment. "Cure" magazine, in its review, stated, "This is one you need… I like that she understands." And "Library Journal" named After Cancer Treatment one of the Top 20 health books published in 2006.
Her latest book is, "What Helped Get Me Through: Cancer Survivors Share Wisdom and Hope" published by the American Cancer Society.
Dr. Silver is currently on medical staffs of several major hospitals in Massachusetts including Brigham and Womens, Massachusetts General, Spaulding and UMass Memorial. In addition to her clinical work as a physiatrist, Dr. Silver is the Chief Editor of Books at Harvard Health Publications (the consumer health branch of Harvard Medical School) and a founder of Oncology Rehab Partners, a healthcare company dedicated to helping hospitals and cancer centers develop and implement oncology rehab services.
The third annual Cancer Forum will be held on March 12, 2011 at City Hall, Hamilton 9:30am-3pm. A full schedule, including Dr. Silver's appearance time, will be posted on www.chc.bm. This event is free to the public.
Read More About
Category: All